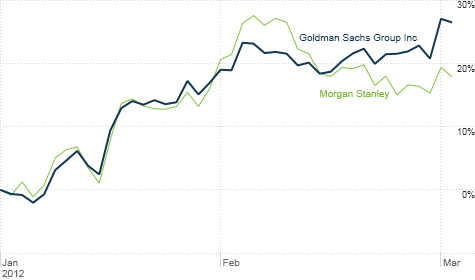 Occupy Wall Street stocks? Despite many risks, the big investment banks are once again the darlings of many investors.
NEW YORK (CNNMoney) -- Trading volume is anemic. Bonuses are down. Investment banking activity is sluggish. But instead of singing a requiem for Wall Street, investors are treating the big banks like they are rock stars.
Shares of JPMorgan Chase (JPM, Fortune 500) are up more than 20% this year. Morgan Stanley (MS, Fortune 500) and Citigroup (C, Fortune 500) have each gained about 30%. That lovable vampire squid Goldman Sachs (GS, Fortune 500) has surged nearly 35%. And Bank of America (BAC, Fortune 500) is up almost 50%.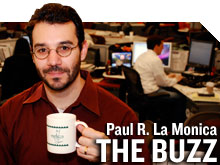 The gains aren't limited to the mighty American banks either. Shares of European titans Credit Suisse (CS) and UBS (UBS) are up more than 15%. Deutsche Bank (DB) is up more than 25%. Britain's Barclays (BCS) has, like BofA, soared nearly 50%.
What gives? For one, there are growing hopes that the worst may be over in Europe The International Swaps and Derivatives Association announced Thursday that a "credit event" had not occurred in Greece despite some of the recent debt restructuring.
That means that credit default swaps, those pesky derivatives that helped bring down Lehman Brothers in 2008 and sent the entire global financial sector into a tailspin, won't be triggered. At least for now.
That's good news for the big banks. Most of them shot up Thursday on the news. Goldman surged 5%, while Barclays and Morgan Stanley were each up more than 3%.
Still, that doesn't seem to be reason enough for the big banks to be rallying. Yes, I realize many of the stocks are still very cheap. And the big mortgage foreclosure settlement is a plus for BofA, Citi and JPMorgan Chase.
The recent rebound in the initial public offering market may help too. Goldman Sachs was the lead manager on the Yelp IPO, for example. Citi was also one of the top underwriters.
Morgan Stanley won the coveted lead spot in the Facebook IPO, but JPMorgan Chase, Goldman, BofA and Barclays are all getting a piece of the action too.
But at the end of the day, it's going to be a lot tougher for Wall Street banks to make serious coin in a world where trading volume remains so low.
Even with the broad stock market rallying so ferociously in 2012, volume remains somewhat light and there is skepticism about how much longer stocks can move higher.
Some feel that the markets aren't going up because people are optimistic about the economy, but because the Federal Reserve is doing everything in its power to keep interest rates low.
"The biggest risk for banks is whether or not this is a true economic and market recovery. If this is, the Wall Street banks should do well," said Keith Springer, president of Springer Financial Advisors in Sacramento, Calif. But this seems to be more about liquidity from the Fed."
Springer added that it's a little curious the banks have rallied this hard despite concrete signs of a true recovery in housing. An improving housing market would do wonders for banks that have lots of bad loans and distressed properties on their books.
"Everyone is banking on, pun intended, higher real estate prices. That probably isn't going to happen and that may mean continued foreclosures," Springer said.
What's more, international regulators are imposing stricter rules requiring banks to have more capital. And in the U.S., several pieces of the Dodd-Frank Wall Street reform bill, particularly the so-called Volcker Rule that aims to crack down on risky proprietary trading, could hurt future profits.
For these reasons, it's probably better for investors to steer clear of the Wall Street behemoths and look more to the smaller banks that do less exotic (i.e. boring) stuff like just making loans and taking in deposits.
"With so many different kinds of banks, we believe that investors should focus on those that generate a significant share of their earnings through lending, as opposed to other activities, such as advisory work," wrote Brett Hammond, senior economist with TIAA-CREF in New York, in a recent report.
Exactly. The big Wall Street banks and all their exotic trading instruments may be sexier than your local community bank. But boring and safe is better than risky and opaque in my book.
Best of StockTwits and reader comment of the week: Yelp proves once again that profits aren't a prerequisite for a hot IPO. And Zynga (ZNGA) continues to make real money for investors from virtual goods.
graubart: I like @Yelp - it's a great business - but a $1.5B market cap on revenues of $83m shows investors ignoring fundamentals $YELP
CNBCMelloy: Did $YELP CEO just get ovation? Not sure I'm a believer. There will be 10 better apps in a year. #NOBARRIERTOENTRY
I'm with both of you. I like the Yelp service. But it's not profitable and there's tons of competition. This is not Facebook.
sublimares2: $ZNGA pumped on beta version of new online gaming platform- kind of a joke
I agree that Zynga probably doesn't need to be up 6% on the new network. However, Zynga is profitable. That makes it stand out in a sea of social media red ink.
ldrogen:$ZNGA is now the #1 asset tied to online gambling and virtual currency, it's about the story not the stock
I was surprised by the poor reception for Zynga when it first started trading in December. It's odd that people didn't seem to realize just how tied to Facebook it is until Facebook itself filed for its IPO.
agwarner: i take back any sarcasm i ever had on $ZNGA, Words is addicting
Just remember to stop playing when you are on a plane. Don't want you getting kicked off a flight like Alec Baldwin.
Shares of job site Monster Worldwide (MWW) shot up 16% Thursday after the CEO said at a conference the company was considering "strategic alternatives." That's often viewed as the equivalent of a corporate "For Sale" sign.
I began a tweet about that Thursday with the words "Some Kind of Monster", a reference to the hilarious Metallica documentary about the making of the wretched "St. Anger" album. Danny Deraney got it and followed up with a joke about the producer of "St. Anger" that earns him the reader comment of the week.
"Bob Rock must not be a part of that then," he tweeted.
That led to a couple of more tweets about how Torben Ulrich, the father of Metallica drummer Lars, is awesome and a debate as to whether he looked more like Gandalf from "Lord of The Rings" or a cast-off from "The Dark Crystal."
What can I say? I guess we're both old school metal-loving nerds. Time to go face the thing that should not be. Right, @metalkaren?
The opinions expressed in this commentary are solely those of Paul R. La Monica. Other than Time Warner, the parent of CNNMoney, and Abbott Laboratories, La Monica does not own positions in any individual stocks.