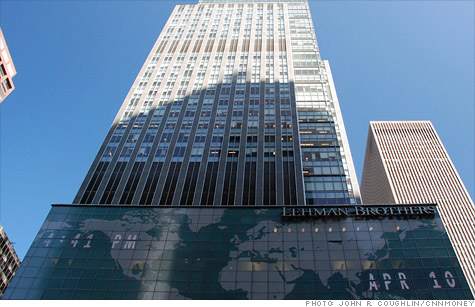 Lehman Brothers and Washington Mutual are expected to return roughly $15 billion to bondholders over the next six weeks.
NEW YORK (CNNMoney) -- In a twist of capitalistic irony, traders are betting that the very banks that are synonymous with the 2008 financial crisis might actually boost the stock and bond markets over the next two months.
In preparation to close up shop for good, Washington Mutual and Lehman Brothers are expected to release roughly $15 billion back to creditors by mid April. It will be the first time that the estates of these banks have paid back bondholders since both firms filed for bankruptcy protection in September 2008.
"I think you'll see excess money going into stocks, and it should cause a big move up," said Kamal Kasera, managing director of the New York hedge fund NineAlpha.
Several traders and large fund investors said they've been scouring the market for the past month trying to figure where the funds returned to Lehman and Washington Mutual creditors might go.
"It very well can give a short term boost, because it's so much liquidity and the settlement of uncertainty can be a positive," said Komal Sri-Kumar, chief global strategist at TCW. "It won't be a long-term boost but certainly for two months it will."
The expected $15 billion payout is dwarfed, of course, by the $712.4 billion that the European Central Bank recently handed over to European banks, but those banks appear to be stashing a lot of that cash back at the European Central Bank.
However, investors expect that the release of some of Lehman and Washington Mutual's cash will be more significant to the market, because the recipients are largely investment firms that should use the money to buy stocks, bonds and real estate.
Some of the money could move into high-yield or junk bonds, because a lot of Washington Mutual and Lehman Brothers' debt was purchased by large hedge funds that invest in these bonds.
After nearly three and a half years in bankruptcy in Delaware's court, Washington Mutual recently confirmed its plan of reorganization and is expected to emerge from court protection on March 15, 2012, according to the firm's attorney Brian Rosen of Weil, Gotshal, & Manges.
Since both Lehman Brothers and Washington Mutual are liquidating, leaving bankruptcy court simply means the shells of both dead banks will enter their final chapter, where a new board, not the court, makes the primary decisions of how and when to return money to bondholders based on each company's reorganization plan.
Portions of Lehman and Washington Mutual did survive in some form. British bank Barclays (BCS) and Japanese financial firm Nomura Holdings (NMR) acquired pieces of Lehman's trading and banking operations in 2008. And JPMorgan Chase (JPM, Fortune 500) bought a chunk of Washington Mutual assets in a deal brokered by the FDIC after WaMu failed.
Creditors of Washington Mutual should receive their portion of roughly $5 billion within 10 days of when the bank leaves court protection, according to Rosen. At the latest, they should have checks in hand by the end of March.
By the time Washington Mutual officially finishes paying back creditors, Rosen said they should disburse about $7 billion. The process should be mostly wrapped up in the next six months, Rosen said.
Lehman Brothers is a larger, more complicated case and one in which its "final chapter" will take several more years to conclude.
In the next six weeks, Lehman's creditors should get their first $10 billion payout since the firm filed for bankruptcy protection in September 2008, according to several sources close to the case.
The fund should officially "emerge" from bankruptcy early next week, according to the three sources. When it does, seven new directors will direct control over distributing what's left of the bank to creditors and selling the firm's remaining holdings.
Lehman's creditors could continue to receive payouts for the next several years, probably two to four times per year. By the latest estimations filed in bankruptcy court, Lehman Brothers is valued at roughly $65 billion. $30 billion of that is in cash. The rest is investments made by the firm, including real estate, private equity and derivatives that still need to be sold.
But regardless of what happens over the next several years, the fact that money from the Lehman and WaMu bankruptcies may help lift the markets for the next few months is a curious footnote to the 2008 meltdown.