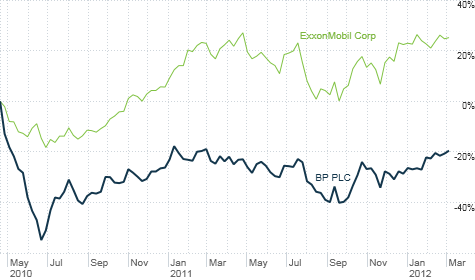 Although shares of BP have rebounded recently, they have a long way to go before they catch up to Exxon and other oil rivals. BP has lagged the sector badly since the 2010 Gulf oil spill.
NEW YORK (CNNMoney) -- It's been nearly two years since the massive oil spill in the Gulf of Mexico. But is the worst over for BP, the company that leased the Deepwater Horizon rig?
BP announced late Friday that it had reached a $7.8 billion settlement with lawyers representing thousands of individuals and businesses affected by the explosion at the Macondo oil well on April 20, 2010.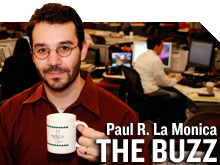 Shares of BP (BP) rose 1.5% on the news Monday, despite the fact that most other oil stocks and the broader market were lower. BP's stock is up 13% this year and is trading near a 52-week high.
Still, BP's legal problems are not over by a long shot. BP still faces a potential fine from the U.S. federal government tied to environmental damages in the Gulf.
"The company is not out of the woods yet," said Fadel Gheit, an analyst with Oppenheimer & Co. in New York. "The recent settlement brings BP a step closer to closing this ugly chapter in the company's history. But the biggest single payment could be the penalty from the pollution."
Gheit said that there is no way to know just how much the fines could be. BP has reserved $3.5 billion for potential Clean Water Act penalties. But Gheit noted that the government could seek more than $20 billion in damages. (BP overall has set aside about $37 billion for all oil spill-related costs and charges.)
This is one reason why BP shares, despite this year's rise, have lagged its top rivals by a wide margin since the Deepwater disaster. BP is still trading nearly 15% below the price it was at the day before the Macondo disaster, which killed 11 workers.
Meanwhile, other big oil exploration and production companies have surged as crude prices have shot dramatically higher. Shares of Royal Dutch Shell (RDSA) and Exxon Mobil (XOM, Fortune 500) are each up about 30% since the Deepwater accident. Chevron (CVX, Fortune 500) and ConocoPhillips (COP, Fortune 500) have both gained more than 40%.
BP also trades at a significantly lower valuation than many of its peers on a price-to-earnings basis. The stock is valued at just 7.5 times 2012 earnings estimates, compared to a multiple of 9 times earnings projections for ConocoPhillips and 10.5 times this year's profit forecasts for Exxon Mobil.
Gheit thinks BP may continue to trail the rest of Big Oil for the foreseeable future.
"The difference between the best case scenario and worst case scenario for government fines is over $17 billion," he said. "There is no question that BP should trade at a discount to Exxon and other big oil stocks. They don't have this big cloud looming over their head."
Robert Kessler, a managing director with Tudor, Pickering, Holt & Co., a Houston-based energy research firm, agreed that some sort of discount is warranted.
Kessler pointed out that BP had to put much of its business on hold to deal with the aftermath of the spill. So BP is behind many of its competitors in terms of new drilling projects.
"In some respects, BP pressed pause in 2010 and now it has to restart," he said. "The company sold some assets at a reasonably attractive price and added some new exploration assets. But the overall project queue doesn't yet compare to Shell's for example."
Nonetheless, Kessler does have an "accumulate" rating on the stock and thinks that the gap between BP and its top competitors will narrow as investors become less worried about oil spill costs.
Stacey Hudson, a research associate with Raymond James in Houston, also said that BP is likely on the right track. She thinks that the legal uncertainty is a distraction and that the stock should still trade at a discount to its peers for a bit. But there is a light at the end of the tunnel.
Still, as investors in bank stocks can attest, legal concerns can wreak havoc on share prices for a while. And BP is not alone. Shares of Transocean (RIG), the owner and operator of the Deepwater rig, are still almost 40% lower than their pre-spill price.
Until it is painstakingly clear that BP won't be forced to pay significantly higher fines than the company (and its shareholders) expect, then the stock is likely to remain an oil sector laggard.
Best of StockTwits: AIG (AIG, Fortune 500) (yes, AIG) is a market leader. Investors get ready for Pandora (P) "earnings," And Walgreen (WAG, Fortune 500) shows Wall Street it may not need Express Scripts (ESRX, Fortune 500).
sspencer_smb: how much higher does $AIG need to trade to catch the momo's attention? 31, 31.50?
It looks like momentum investors are noticing AIG. The stock was up 2% to around $30.50 Monday after the insurer sold off some of its shares in Asian unit AIA to help raise money to pay back the federal government.
The Treasury Department's break-even price for AIG in the bailout was just under $29 a share. So if AIG's winning streak continues, this is good news for all taxpayers.
DroidTrade: I've been a $P subscriber for two yearly payments now. It's a service I like and for $39 seems worth it to avoid the ads etc.
Not sure enough users agree. Analysts are forecasting a quarterly loss for Pandora. And I'll admit to being someone who doesn't pay for Pandora -- even if it means annoying LivingSocial ads interrupting the music every now and then.
BrianSozzi: Walgreen woes just continue. Makes one wonder if this could eventually be on a shopping list... #pe $WAG
investbymodel: Looks like $WAG scrips are worse than they thought ESRX impact might be, but it's not hurting front-end sales too badly
On the surface, the lower level of prescriptions at Walgreen is terrible news. Same-store sales were down in February and it looks like the drug store chain's contract dispute with pharmacy benefits company Express Scripts is taking its toll -- especially as Rite Aid (RAD, Fortune 500) and CVS (CVS, Fortune 500) gleefully advertise that they accept Express Scripts customers.
But as investbymodel points out, overall sales were up at Walgreen. And investors cheered that news. The stock rose 2% Monday. So I don't think Walgreen can be considered a serious takeover candidate. With a market cap of $29 billion, that's a tall order for private equity firms.
The opinions expressed in this commentary are solely those of Paul R. La Monica. Other than Time Warner, the parent of CNNMoney, and Abbott Laboratories, La Monica does not own positions in any individual stocks.