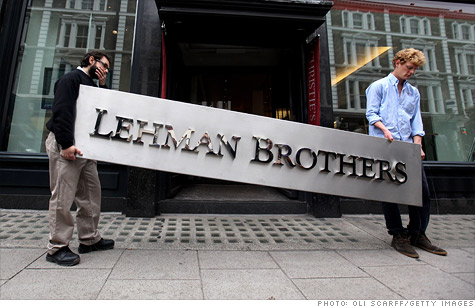 Lehman Brothers' bankruptcy has already generated nearly $1.6 billion in fees for lawyers and consultants to the defunct bank.
NEW YORK (CNNMoney) -- Lehman Brothers' bankruptcy is the largest in history, and it's also been the most lucrative one for lawyers and consultants.
The defunct bank's bill: nearly $1.6 billion. That tally comes from the latest court filings that track fees and expenses as of January 31, 2012.
The next largest bankruptcy, Enron, generated less than half of what Lehman has already rung up: $793 million.
Lehman Brothers is expected to exit bankruptcy protection this week, nearly three and a half years after it filed for Chapter 11 in the Southern District of New York. Lehman's bondholders expect to receive their first payout of $10 billion in the next six weeks. According to most recent estimates, they will eventually be repaid $65 billion.
Bankruptcy consulting firm Alvarez & Marsal, which essentially managed what was left of Lehman Brothers after it filed in September 2008, has collected nearly $512 million in fees as of January 31, 2012.
At its peak, roughly 160 professionals from Alvarez & Marsal worked for Lehman's estate. Now about 65 of their employees do.
Though Alvarez & Marsal managed Lehman's U.S. operations and assets that weren't sold to the British bank Barclays (BCS) and Japanese financial firm Nomura Holdings (NMR), these fees do not include the salaries of about 575 former Lehman Brothers' employees that stayed on. 370 former Lehman employees are still working there now.
Lehman Brothers' primary law firm Weil, Gotshal & Manges is already set to collect $383 million for its work up until January 31, 2012. The firm representing creditors of Lehman Brothers', Milbank Tweed Hadley & McCloy, has already billed nearly $133 million.
The consulting firm for Lehman's creditors, FTI Consulting, generated $81 million in fees during the same time period.
"These fees are higher than my model would've predicted," said Stephen Lubben, a professor of bankruptcy law at Seton Hall University. Still, Lubben said there's no fair comparison because there's never been a bankruptcy of the size or scope of Lehman Brothers.
Overall bankruptcy fees have been moving up sharply. According to research conducted by UCLA law professors Lynn LoPucki and Joseph Doherty, fees increased roughly 9.5% per year between 1998 and 2007.
It is rare for bankruptcy judges to deny fees or expenses that lawyers and consultants submit to the court each quarter. Between 1998 and 2007, LoPucki and Doherty's research revealed that only 1.3% of all fees submitted in bankruptcy court were overturned.
Bankruptcy is a boon to law firms. 33 law firms have advised Lehman Brothers during its time in court. Of those, Bingham McCutchen; Curtis, Mallet-Prevost, Colt & Mosle; Jones Day and Quinn Emanuel Urquhart Oliver & Hedges have all generated eight-figure tabs so far.
After Lehman exits bankruptcy court, its new board of directors and its litany of consultants and lawyers will continue to sell roughly $30 billion of the firm's assets and move forward with pending litigation. That process could take several additional years.