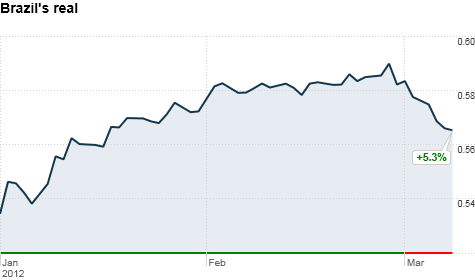 Brazil has been actively fighting to cap the rapid appreciation of the 'real' to help its economy.
NEW YORK (CNNMoney) -- Brazil's central bank fired the next shot in what is shaping up to be an international currency war with a sharper-than-expected interest rate cut late Wednesday that pushed down the value of its currency, the real.
It's yet another bullet that Brazil is using to fight the rapid inflation of its currency and jumpstart its sputtering economy, which expanded at a 2.7% rate in 2011 versus 7.5% in 2010.
Brazil's finance minister has repeatedly blamed rate cuts by central banks in the United States, Europe and Japan for unleashing a "monetary tsunami."
The rate cuts and looser monetary policy have devalued the dollar, euro and yen and driven investors to seek yield from Brazil's relatively high interest rates, which now stand at 9.75%. Wednesday's move marked the fifth rate cut by Brazil since August. (See correction below)
"Brazil has been the first and most prominent victim of the currency wars," said James Rickards, senior managing director at Tangent Capital Partners and author of Currency Wars: The Making of the Next Global Crisis. "The U.S. has been so successful at cheapening the dollar that it's hurt Brazil's exports."
As a country's currency appreciates, it generally makes it more difficult to sell goods overseas because they become less affordable. Since the start of the year, Brazil's manufacturing sector has largely been stuck in neutral.
"The Brazilian government has been so vocal about the fact that Japan, the U.S. and Europe have been pumping money out the window," said Arturo Porzecanski, a professor of Latin America economics at American University. "Now it looks like rather than fighting them, they're joining them."
What surprised economists most about Brazil's interest rate cut was that it meant its central bank is largely ignoring concerns over inflation. Inflation has been running at roughly 6%, and consumer prices have doubled in the past decade.
Meanwhile, Brazil's government has taken other steps to dampen the appreciation of the real. The finance ministry extended a 6% tax on foreign buyers of the real and said it may repurchase its sovereign debt located overseas.
One of the fastest appreciating currencies of 2012, the real's exchange rate rose 10% by early March, but that has since been cut in half.
Brazil, the world's sixth largest economy, is not the only emerging market that's feeling the pain of slowing growth. China announced this week that it expects economic expansion to slow to 7.5% in 2012, down from prior forecasts of 8%.
Correction: An earlier version incorrectly stated the number of rate cuts since August.