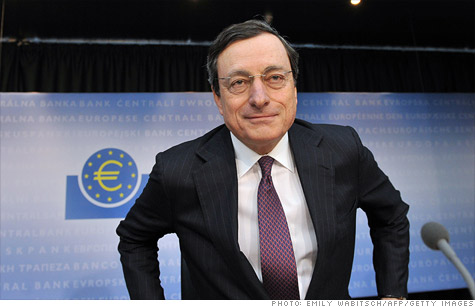 ECB president Mario Draghi said the bank's efforts to avert a credit crunch have been an 'unquestionable success.'
NEW YORK (CNNMoney) -- The European Central Bank offered a slightly more pessimistic outlook for the eurozone economy Thursday and said it expects inflation to rise this year on higher oil prices.
The ECB expects eurozone economic activity in 2012 to range between a decline of 0.5% and an increase of 0.3%. That's worse that August, when the bank projected activity would range between a contraction of 0.4% and growth of 1%.
Inflation in the euro area will likely remain above 2% this year, reflecting higher energy prices and higher taxes, according to the ECB.
The latest projections were issued after a policy meeting at ECB headquarters in Frankfurt, where the bank's governing council voted to hold interest rates steady at 1%, as expected.
During a press conference, ECB president Mario Draghi said this year's two long-term refinancing operations, designed to support European banks struggling to fund themselves, have been an "unquestionable success."
He said the operations, in which the ECB funneled some €1 trillion worth of 3-year loans at ultra-low interest rates into the banking system since December, helped restore confidence in financial markets.
"We see many signs of return of confidence in euro," he said. "The so-called real money investors have, to some extent, come back," he added, pointing to the return of money market funds and improvements in certain bank funding markets.
Draghi said it was mostly German banks that have borrowed relatively small amounts in the second round of lending, which took place earlier this month. This suggests that the money is now closer to the small and medium size businesses that are the main drivers of employment in the eurozone, he said.
But the ECB president also stressed that banks need to do more to strengthen their balance sheets, including retaining earnings, in order to lend more and support the economy.
According to a recent "ad hoc" survey, Draghi said there has been "a modest pick up in credit and bank lending" since the first liquidity operation was conducted in December.
Meanwhile, Draghi urged euro area policy makers not to be "complacent" and push ahead with fiscal consolidation and structural reforms.
"The LTRO had the powerful effect of removing what's called tail risk from the environment," he said. "Now the ball is in the governments' and other actors', especially the banks, court."
Draghi said he was "absolutely confident" that the pact on fiscal discipline that most European Union leaders signed earlier this month will be implemented.
The fiscal compact, which must be written into law by individual euro area governments, is designed to strengthen budgetary discipline to help prevent a future crisis.
Draghi called the agreement a "pillar of trust between countries" and stressed that greater fiscal integration is essential for the future stability of the European Monetary Union.
"I think it's clear that if countries don't release some of their national sovereignty about fiscal policy, there is no way we can be together," said Draghi. "We cannot have one or two countries that pay for everybody else."
Draghi said he could not comment on the potential outcome of a crucial debt restructuring for Greece. But he noted that investors appear to be optimistic that a sufficient number of bondholders will accept the deal, which Greece needs to secure more bailout money and avoid a default.
While investors were concerned about Greece earlier this week, "today they are not nervous and seem to be happy with what's going on, and they certainly know more about what's going on than I do," said Draghi.
Draghi rejected criticism about the relaxation of collateral standards at the ECB, which he said "could be a lot looser."
He also downplayed concerns that the German Bundesbank, which has opposed the ECB's controversial government bond buying program, has been isolated on the bank's governing council.
While he acknowledged that "there is always a difference of views" on the council, he stressed that "it is not only Germany against everybody else."
"I am determined to do the right thing, and to do them together," he said.