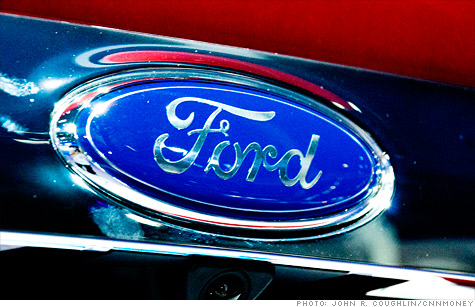 NEW YORK (CNNMoney) -- Ford Motor is urging its shareholders to reject a Canadian investment firm's bid to buy up to 8 million Ford shares at below-market price.
The offer for $11.70 a share comes from Toronto-based TRC Capital, according to Ford.
Calls to the firm were not immediately returned.
Ford (F, Fortune 500) shares, which are up 20% in the last six months, were at $12.42 in mid-afternoon trading Thursday, up 18 cents on the day.
The U.S. Securities and Exchange Commission has issued a warning to investors about these kinds of so-called "mini-tender offers," which are typically for less than market price.
The SEC warning says the offers are often made to catch investors unware. The intention is to get stockholders to tender their shares on the false assumption the buyer is paying a premium that is typically associated with traditional tender offers for a larger stake in a company.
TRC has a history of making these kinds of below-market mini-tender offers.
So far this calendar year alone it has made similar offers for shares of Marathon Petroleum (MPC), Qualcom (QCOM, Fortune 500), as well as U.S. shares of Dutch electronics manufacturer Royal Philips Electronics (PHG).
All three companies did the same as Ford and urged shareholders to reject the offer. The share price of all three are today trading at prices well above the TRC offer price.