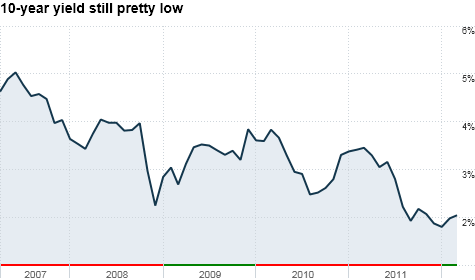 The Fed has done everything it can to keep long-term rates low since the 2008 crisis. But a third-straight solid jobs report should signal an end to more easing. Click chart for more on bonds.
NEW YORK (CNNMoney) -- Repeat after me. There is no need for more QE. There is no need for more QE. There is no need for more QE.
The strong February jobs report is a sign that the economy is continuing to steadily improve. When the Federal Reserve's policy committee meets next week, it will hopefully note this rebound and not talk about the need for more monetary stimulus.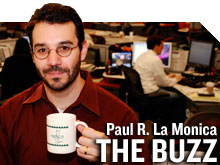 Since the financial crisis of 2008, the Fed has already done two rounds of QE, or quantitative easing. Through those programs, the Fed bought about $1.6 trillion in Treasury bonds in order to keep long-term rates low.
The Fed is also in the process of completing a program that's been dubbed Operation Twist. Through Twist, the Fed has been selling short-term bonds and buying longer-term debt. Twist ends in June and that's led to chatter about what Fed chairman Ben Bernanke will do for an encore.
Investors got their hopes up earlier this week following a Wall Street Journal report about the possibility of so-called sterilized bond purchases to keep long-term rates low.
The Fed could buy more long-term bonds but then borrow the money back from investors. That could limit criticism the Fed is fueling inflation by printing more money.
But the most sure-fire way for the Fed to forestall more attacks is to just stop buying bonds when Twist is over. End of discussion. It is getting harder to write off the recent signs of life in the economy as temporary, or to use a favorite Bernanke-ism, "transitory."
More than 200,000 jobs have been added to payrolls for the third straight month. While the unemployment rate remained 8.3% in February, it is still down sharply from the 9% it was at a year ago.
What's more, the so-called underemployment rate has dropped significantly in the past few months, from 16% in October to 14.9% last month. This is all good.
"The Fed seems really anxious to do something, but that would be a mistake. The economy seems to be in better shape," said Bob Baur, chief global economist with Principal Global Investors in Des Moines, Iowa.
If anything, the Fed may need to soon revisit its recent pledge to keep its key short-term rate near zero until the end of 2014. The Fed had been saying it wanted to keep rates low until mid-2013 but pushed out the timeline for rate hikes following its last meeting in January.
"This jobs number alone does not suggest that the Fed has to do a 180 yet, but this does put QE3 off the table. And there will be more of a focus on the 2014 target for higher rates," said Liz Ann Sonders, chief investment strategist with Charles Schwab & Co. in New York.
Bond yields did rise a bit Friday morning after the jobs report. But with a 10-year yield still barely north of 2%, it's clear that interest rates are not holding the economy back. In fact, Baur worries that more easing could hurt the economy because it may weaken the dollar and lead to even higher oil and gas prices.
"I don't know any business person who is not starting a business because interest rates are too high, or consumer not buying a home because mortgage rates are too high," he said. "Adding more liquidity and trying to get interest rates even lower won't help the economy. If anything the extra liquidity might go back into commodities."
Still, don't expect the Fed to get complacent either.
The central bank can take solace in the fact that the unemployment rate is down as much as it is over the past year. Promoting full employment is still one of its two mandates despite all the chatter in Congress about pushing the Fed to just focus on inflation.
And last time I checked, a jobless rate of above 8% is still historically high.
"If the economy becomes much stronger than expected, the Fed will have to change its mind on rates," said Jack Kleinhenz, regional economist with the Weatherhead School of Management at Case Western Reserve University in Cleveland. "But it's an understatement that the jobs gains are slower than what we need and slower than what we have had in previous recoveries."
So maybe the Fed won't need to keep rates near zero for the next two years after all. But don't count on a rate hike in 2012 -- especially since it's a hyper-politically charged election year.
"The overall economy is still relatively weak," said Larry White, professor of economics at the NYU Stern School of Business. "We are clearly in a better position than we were two or three years ago, but the Fed will probably be steady as she goes well into 2013."
And even though it's not officially part of its mandate, one expert said continued concerns about housing may give the Fed enough reason to act.
"The jobs gains are looking more and more like a trend. It is very encouraging. For those reasons, the Fed should acknowledge that," said Michael Materasso, senior vice president and co-chair of the fixed income policy committee at Franklin Templeton in New York.
"But If the Fed wants to do QE3 because it feels that despite all of this, the housing market is still weak, it is going to do QE3," he added.
Best of StockTwits and reader comment of the week: Green Mountain Coffee Roasters (GMCR) may want to change its name to Green Mountain Coffee Roasted. Shares plunged 15% Friday after Starbucks announced a new single-serve coffee machine that doesn't involve Green Mountain's K-Cups. Starbucks (SBUX, Fortune 500), meanwhile, is near an all-time high.
HedgeyeHWP: Keep in mind $GMCR needs $SBUX not the other way around! $GMCR is bleeding cash profusely and $SBUX has billions!
anthonybrown: "Our relationship with$GMCR is solid" (we're just selling a competing machine that they don't make money from) -Schultz $SBUX HAHAHA!
It's amazing to think it's only a year ago that Starbucks announced a partnership with Green Mountain. What's that about keeping your friends close and your enemies closer? As I pointed out in today's Buzz video, this is a cautionary tale for investors in one-trick pony (or one-cup pony in this case) momentum stocks
Commodity_Bull: Was informed last night einhorn is out of $GMCR short. Still, his thesis was correct about increased competition and patent expiration
Jonyfan: Expecting nothing but the best from the new Starbucks machine. They've had 3 yrs to perfect it due to $GMCR patent.
Green Mountain CEO Larry Blanford did an interview with my colleague Maureen Farrell last month and professed to not being worried about more competition. Oops.
Finally, you may have heard that Apple (AAPL, Fortune 500) unveiled a new iPad this week? Excuse me, The New iPad. I joked on Twitter about how the lack of a name (everyone thought it would be either iPad 3 or iPad HD) reminded me of Coca Cola's (KO, Fortune 500) New Coke debacle from the 1980s.
A follower going by the handle of @KBThePres shot back with a reason why Apple couldn't come up with something better. And that is this week's top reader comment.
"Awesome Tablet Thingy" was taken, apparently," @KBThePres, aka kabelo, tweeted.
Nice. And I'm guessing kabelo can't wait to get a new Awesome Tablet Thingy on March 16. Check out the background on kabelo's Twitter page. It's an image of the Apple logo with fangs poised to take a bite out of the Android robot!
The opinions expressed in this commentary are solely those of Paul R. La Monica. Other than Time Warner, the parent of CNNMoney, and Abbott Laboratories, La Monica does not own positions in any individual stocks.