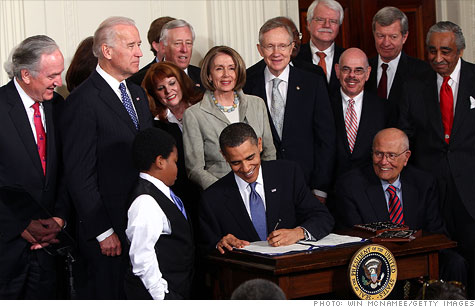 President Obama signed the Affordable Care Act into law in 2010, but its biggest coverage provisions won't go into effect until 2014.
NEW YORK (CNNMoney) -- Capitol Hill's official budget cruncher will offer new estimates on Tuesday of one of the most controversial parts of health care reform: the government's cost of covering tens of millions of uninsured Americans.
The Congressional Budget Office's estimates will be part of its annual March revision to its budget baseline -- the marker against which any spending and tax proposals are measured.
But they also will come just two weeks before the Supreme Court will hear arguments in a landmark case brought by 26 states and the National Federation of Independent Business, which contend certain provisions in the law are unconstitutional.
Passed in March 2010, the Affordable Care Act is intended, among other things, to guarantee coverage for everyone regardless of health status and create affordable insurance options for low- and middle-income Americans.
The law would expand eligibility rules for Medicaid and subsidize the cost of health insurance for low and middle-income families buying policies on newly created insurance exchanges.
As a result, by 2021, 95% of legal, non-elderly U.S. residents will have health insurance, up from 83% currently, according to CBO's projections.
While more than half of U.S. adults under age 65 have health insurance through their employers, and the vast majority of those over 65 are covered by Medicare, an estimated 49 million nonelderly Americans remain uninsured, according to the Kaiser Family Foundation.
Last March, CBO estimated that the coverage provisions would cost $1.445 trillion over the first decade, up from its $931 billion estimate when the law was passed. On net, after counting the new insurance-related taxes and penalties the law would raise, the agency estimated the provisions would cost $1.131 trillion, up from its original estimate of $778 billion.
The reason for the different estimates: CBO measured costs over a later period of time last year.
That's bound to be one of the reasons why the agency's estimates on Tuesday will differ from those offered in 2010 and 2011.
But another reason may be the agency's unemployment rate projections, which are more pessimistic today than have been. That can add to the cost since more people than previously thought would be eligible for government-subsidized insurance.
What the CBO is not likely to provide on Tuesday is a revised overall cost estimate for the health reform law. Last year, the agency determined that the combined effect of the law's provisions -- which include various other measures to tame health care costs -- would reduce deficits by $210 billion between 2012 and 2021.
Those estimates were based on the law being implemented exactly as written. That's one reason why the Supreme Court ruling, due in June, could change the outlook of the law's budgetary effects.
Among other things, the high court will consider whether the law's individual mandate to buy health insurance is constitutional.
That mandate would require every American to obtain insurance starting in 2014 or pay an annual penalty equal to whichever is greater: 2.5% of household income or $695 per person up to a maximum of $2,085 per family.
Even if the law is preserved in its current form, no one contends that it will be a panacea for the country's long-term health cost burdens. CBO Director Douglas Elmendorf has noted as much repeatedly.
Soon after the law's passage in 2010, he told lawmakers that even "if all the health law measures are implemented, we end up with slightly lower federal health spending by the end of the 2020s."