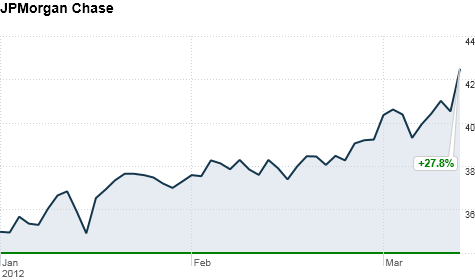 JPMorgan shares surged on news that the Federal Reserve cleared the way for an increased dividend.
NEW YORK (CNNMoney) -- JPMorgan Chase will increase its stock dividend by 20% and has the authority to buy back roughly $15 billion of its shares, the company said in a press release Tuesday.
Investors cheered the news, pushing JPMorgan Chase's (JPM, Fortune 500) shares up more than 7%. Other financial stocks also surged into the close, including Goldman Sachs (GS, Fortune 500), Morgan Stanley, (MS, Fortune 500) Bank of America (BAC, Fortune 500) and Citigroup (C, Fortune 500).
JPMorgan got a clean bill of health from the regulator, as did 15 out of 19 U.S. banks.
Citigroup, Ally Financial, MetLife (MET, Fortune 500), and SunTrust (STI, Fortune 500) failed to set aside enough capital to pass the so-called stress tests. Shares of Citigroup, MetLife and SunTrust all dropped in aftermarket trading.
JPMorgan Chase said that the Federal Reserve had no objections to the bank's dividend plan.
The Federal Reserve had originally planned to release the results of how U.S. banks fared during the stress tests Thursday, But following JPMorgan Chase's announcement, the Fed released released results at 4:30 p.m. Tuesday.
Last year, the Federal Reserve blocked Bank of America's attempt to increase its dividend.
JPMorgan Chase said Tuesday it would raise its dividend to 30 cents a share, an increase of 5 cents per share..
"We expect to generate significant capital and deploy that capital to the benefit of our shareholders," said Jamie Dimon, JPMorgan Chase's CEO in a release.
JPMorgan said it could buy back up to $12 billion of its shares in 2012, and another $3 billion through the first quarter of 2013. Still, Dimon said the bank will weigh whether to use the buyback option depending on the stock price and market conditions.
"We expect to repurchase, at a minimum, approximately the same amount of shares that we issue for employee stock-based incentive awards," said Dimon. "Beyond this, we intend to repurchase equity only when we are generating capital in excess of what we need to fund our organic growth."