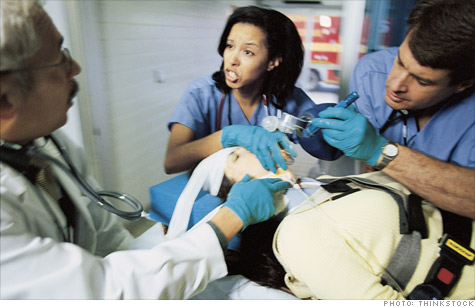 The Congressional Budget Office now estimates that the health reform law will reduce the number of uninsured by 30 million by 2016.
NEW YORK (CNNMoney) -- The cost and promised savings of health reform tied lawmakers in knots two years ago. The issues are no less complicated or uncertain today.
On Tuesday, the Congressional Budget Office released new estimates on the cost of subsidizing insurance coverage for millions of Americans.
The bottom line: The government's overall tab is expected to fall slightly over a decade. It is now projected to spend $1.083 trillion between 2012 and 2021. Last year, CBO's estimate was $1.131 trillion.
A key goal of the Affordable Care Act, passed in 2010, is to guarantee coverage for everyone regardless of health status and create affordable insurance options for low- and middle-income Americans.
To achieve that end, the law expands eligibility rules for Medicaid and subsidizes the cost of health insurance for low- and middle-income families buying policies on newly created insurance exchanges, which will open in 2014.
The CBO now expects more people to be eligible for Medicaid and the Children's Health Insurance Program, increasing the government's costs by $168 billion compared to last year's estimates. The reason: higher unemployment projections and lower income expectations.
At the same time, that increased outlay is offset by a reduction in projected costs for various tax credits and the government's share of premiums.
It is also offset by higher-than-expected taxable compensation and penalties, both of which will add to government revenue.
Specifically, the CBO expects up to 5 million more workers will lose their employer-based insurance, and in exchange their employers will pay them more instead. That additional pay will be taxable, whereas an employer contribution to pay for a worker's health insurance is treated as tax-free compensation.
Plus, the CBO expects more penalties to be paid by employers that don't provide adequate financial support for their workers' health coverage.
Despite this increased estimate of people who will no longer have work-based coverage, the CBO still expects the number of workers with employer-sponsored plans to grow, just more slowly than it might have without the health reform law.
Today, an estimated 154 million workers get their health insurance at the office. By 2022, the CBO projects 161 million will.
Overall, the agency expects the health reform law to reduce the total number of uninsured by 30 million in 2016. As a result, it projects that 93% of non-elderly, legal U.S. residents will have health coverage, up from 82% today.
The CBO -- the official budget scorekeeper on Capitol Hill -- has not revised its cost estimate for the full health reform law, which includes many provisions beyond coverage subsidies. Last year, it determined that the Affordable Care Act as a whole would reduce deficits by $210 billion between 2012 and 2021.
The CBO's estimates come just two weeks before the Supreme Court will hear arguments in a landmark case brought by 26 states and the National Federation of Independent Business, which contend certain provisions in the law are unconstitutional.