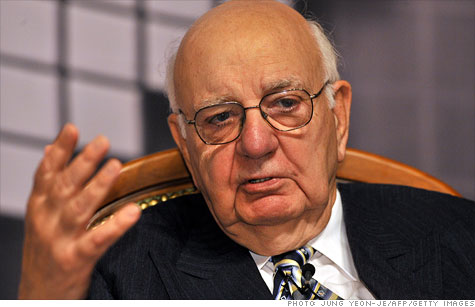 Former Fed chairman Paul Volcker says Goldman Sachs has moved away from its client focus.
WASHINGTON (CNNMoney) -- Former Federal Reserve chairman Paul Volcker said Wednesday there's been a dramatic transformation on Wall Street, with banks turning their focus away from clients' interests and toward maximizing profit.
Speaking at the Atlantic's Economics Summit in Washington, Volcker responded to a question about a New York Times op-ed piece in which a Goldman executive director said he was resigning because of a "toxic" atmosphere at the firm.
Volcker said that Goldman (GS, Fortune 500) had been one of the most respected banks, known for focusing on clients' needs and avoiding conflicts of interest. But when Goldman became a "trading operation" after going public in the 1990s, it became less customer-oriented and more susceptible to conflicts of interest.
In good times Wall Street firms enjoyed "enormous compensation," Volcker said, which helped them recruit top talent.
"All these firms could attract the best of American graduates, " he said. "But now we have a question of how much of that activity was constructive in improving the economy and GDP?"
"There were brilliant years for Wall Street, (but) were these brilliant years ...for Main Street?" Volcker asked.
The former Fed chief is hopeful the so-called Volcker rule -- a portion of Wall Street reform that bars investment banks from trading for their own accounts -- will help curb such speculation at the firms.
Volcker served as Fed chairman from 1979 until he was succeeded by Alan Greenspan in 1987.
In the New York Times piece, executive director Greg Smith said he was leaving the firm after 12 years because it had become disrespectful of clients. "I can honestly say that the environment now is as toxic and destructive as I have ever seen it," he wrote.
In a memo to the staff responding to the piece, Goldman CEO Lloyd Blankfein and Chief Operating Officer Gary Cohn said they were "disappointed to read the assertions made by this individual that do not reflect our values."