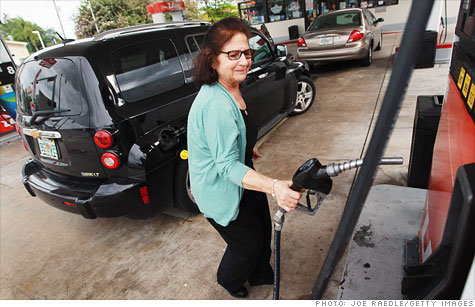 NEW YORK (CNNMoney) -- Gas prices keep rising, but that hasn't led to higher prices for other consumer goods just yet.
The government's key measure of inflation, the Consumer Price Index, showed prices rose 0.4% in February, the most since last April and in line with economists' expectations.
After stripping out volatile energy and food prices, core inflation was up only 0.1% in the month.
The ideal inflation rate, at least according to the Federal Reserve, is around 2% a year. Compared to last year, the CPI is up 2.9%, but core inflation is up only 2.2%.
On Tuesday, the Federal Reserve said higher gas prices are likely to drive inflation higher but only temporarily.
That's because the economy still has a lot of room to grow. Although the job market has started to improve recently, 12.8 million people remain unemployed. Meanwhile, home prices are at their lowest levels since 2002.
Should the job market continue to improve, that could change. More jobs and higher wages could lead to higher rents -- one of the largest components of core inflation.
"As the economy recovers and the unemployment rate comes down, households generate more income," said Carl Riccadonna, senior U.S. economist with Deutsche Bank. "Then you tend to see people upgrade their housing or if they're living with mom and dad, perhaps they move out on their own. Rental inflation could push the index higher."
Higher wages could also give businesses more leeway to raise prices on recreational and entertainment goods and services. For those reasons, Riccadonna expects to see core inflation keep rising to around 2.7% by year-end.
As of February though, rising prices were largely confined to the gas station.
Gas prices rose about 29 cents per gallon in February, ending the month at a national average of $3.731, according to AAA's Daily Fuel Gauge report.
According to the CPI figures, food prices were completely flat in the month.