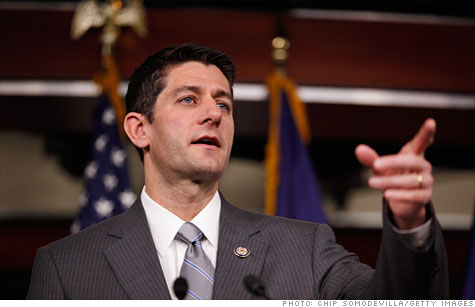 House Budget Chairman Paul Ryan has made Medicare reform one of his banner issues. And it is likely to be a key element in House Republicans' 2013 budget proposal.
NEW YORK (CNNMoney) -- Lawmakers won't be finalizing too many financial decisions before the November elections. But they're about to engage in yet another fight that could risk a government shutdown in the fall.
That would add to the fiscal hurricane set to hit right after Nov. 6. That's when the lame duck Congress must decide what to do about the expiration of the Bush tax cuts and the Medicare "doc fix" on the eve of deep, automatic spending cuts that nobody wants.
For next week, though, the focus will be on the House Republicans' 2013 budget proposal put out by House Budget Chairman Paul Ryan.
Democrats have been crying foul in advance, because the House GOP is expected to propose a top-line number below the $1.047 trillion discretionary spending cap agreed to in last summer's Budget Control Act, the deal struck as part of the debt ceiling compromise.
But the Budget Control Act also requires a "sequester," $1.2 trillion in deficit reduction to be achieved through spending cuts and interest savings over 9 years.
If those cuts are allocated evenly across those years, the cap on discretionary spending for 2013 looks more like $950 billion.
So if the Ryan budget proposes $950 billion as a cap and simultaneously cancels the sequester, one could argue that's in keeping with the agreement.
In any case, Republicans contend that they can propose any cap under the $1.047 trillion level, because that simply represents the uppermost limit for discretionary spending, not a level up to which Congress must spend.
In fact, there's nothing in the law barring them from proposing something lower, said budget expert Stan Collender, once a Democratic staffer on the Hill.
But just because they can doesn't mean they should, Collender said in a recent Roll Call column.
Doing so would guarantee that the Senate rejects the House-passed budget resolution.
And it increases the chances that Congress will end up passing yet another a temporary spending measure to keep the government open after Oct. 1, the start of the new fiscal year, or risk a shutdown a month before the elections.
Tackling health care costs: Another bone of contention will be how Republicans handle the more than $500 billion in defense spending cuts under the sequester. It's expected that they'll seek to minimize those cuts and find savings elsewhere.
One area might be entitlement spending. Ryan is expected to include a Medicare reform proposal in the budget. The specifics aren't known, but Ryan has backed a number of plans in the past.
Last year he proposed converting Medicare into what the Democrats derisively called a "voucher" program and what Ryan called a "premium support model."
Seniors would choose their own health plan from a Medicare-approved list of private insurers and receive an average $8,000 subsidy from the government to pay for that plan. The subsidy would be adjusted for inflation as well as for the beneficiary's age, health status and income.
The Congressional Budget Office said Ryan's plan would greatly reduce government obligations and improve the federal balance sheet. But it would do so by increasing how much most elderly would pay for health care and by increasing their financial risk should health care costs grow faster than assumed.
Ryan also proposed a plan with Democratic Sen. Ron Wyden. It is more flexible, giving seniors a choice of staying in the traditional fee-for-service Medicare plan or opting for a Medicare-approved private plan. In either case, seniors would receive a government subsidy to help pay for their choice.
Low-income seniors would receive more assistance than wealthy ones. And those with the greatest health needs would be guaranteed affordable coverage, according to a plan fact sheet.
Medicare reform is always a politically tough issue, so there is little hope that both sides of the aisle will lock arms and agree to a bipartisan reform in an election year.
But it's an issue they won't be able to ignore for too long. In the next decade, CBO estimates that enrollment in Medicare will grow by a third and spending per enrollee will jump by 50%.