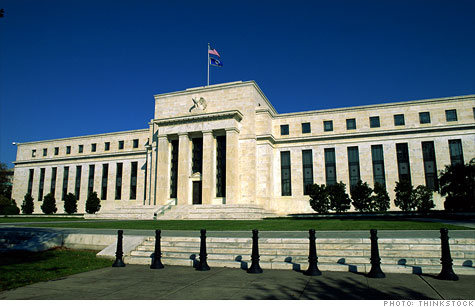 NEW YORK (CNNMoney) -- Call it the most profitable bank in the world.
The Federal Reserve once again made a hefty profit in 2011, as the central bank went on a bond buying binge to stimulate the economy.
The Fed earned $77.4 billion last year, according to financial statements released to the public Tuesday. And yes, they were audited (by Deloitte and Touche).
While that's a slight tick down from the Fed's 2010 earnings, it's still a massive figure.
To put it in perspective, consider this: Last year, the Fed earned more than America's top five largest banks -- JPMorgan Chase (JPM, Fortune 500), Bank of America (BAC, Fortune 500), Citigroup (C, Fortune 500), Wells Fargo (WFC, Fortune 500) and Goldman Sachs (GS, Fortune 500) -- combined.
It's also more than twice what Apple (AAPL, Fortune 500) earned.
Most of the profit came from interest paid on the securities the Fed acquired in the financial crisis and subsequent recovery.
The Fed started stockpiling Treasuries, mortgage-backed securities and agency debt in 2008, in programs known as quantitative easing and QE2. As a result, the central bank now holds a massive $2.9 trillion on its books. The goal was for the asset purchases to bring down interest rates, stimulating more lending and borrowing in the U.S. economy.
Overall, the Fed's profit is slightly down from the $81.7 billion it earned in 2010, as some of those assets have either matured or been sold.
Each year after paying its own bills, the central bank hands its remaining earnings to the Treasury. As a result of last year's windfall, the Fed will turn $75.4 billion of its profit over the Treasury.