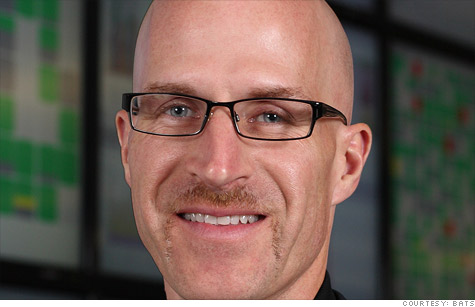 BATS Global Markets CEO Joe Ratterman apologized to customers after the company's stock exchange experienced a systems failure on the day BATS was going public.
NEW YORK (CNNMoney) -- After botching its debut as a public company last week, BATS Global Markets issued a heartfelt apology Sunday night in a letter to customers.
"Let me get right to the point," said Joe Ratterman, chief executive of BATS, in the letter. "BATS experienced a serious technical failure Friday morning and I want to apologize for not measuring up to the level of excellence that you have come to expect from us."
The technical failure came on the day BATS had hoped to sell its own stock to the public for the first time. BATS, which operates stock exchanges, intended to list the stock on its own trading platform.
But trading in the newly issued BATS stock was halted when the price suddenly plunged almost immediately after it hit the market, triggering a so-called circuit breaker.
"On Friday we were under the brightest spotlight imaginable ... opening our own stock on our own exchange for the first time ever," said Ratterman. "It doesn't get much more public than that."
Despite months of preparation and "rigorous" testing, BATS said it experienced a "system problem" that prevented the stock from trading properly.
Ratterman stressed that all companies have technical glitches and that BATS exchanges have run smoothly 99.9% of the time over the last three years.
"It shouldn't have failed, but it did, and the timing couldn't have been worse," said Ratterman.
Ratterman suggested the offering could have been salvaged if the problem had been resolved quickly. But it took over two hours to reopen the market and by then the damage had been done.
"We determined that this was a material event that had eroded investor confidence and made the timely resumption of fair and orderly trading unlikely," he wrote. "As a result, we pulled the IPO and unwound all auction executions."
BATS is the third-largest exchange operator in the United States after NYSE Euronext (NYX, Fortune 500) and the NASDAQ OMX Group (NDAQ), according to the company's investment prospectus.
The Kansas City-based company is considered one of the largest platforms for high-frequency computer-driven trading.