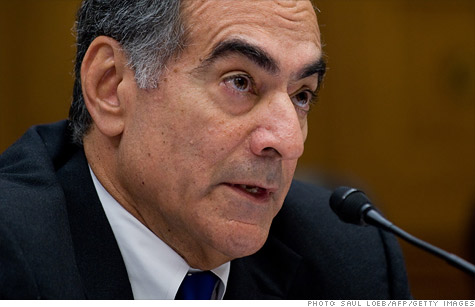 Morgan Stanley's former CEO and chairman John Mack guided the bank through the financial crisis.
NEW YORK (CNNMoney) -- Morgan Stanley's former CEO John Mack is joining the private equity firm Kohlberg Kravis Roberts as a senior advisor, the firm announced Tuesday.
With Mack on board, KKR could look to make a bigger push into financial services and consider buying up troubled banks and asset managers both domestically and abroad.
KKR currently holds a stake in the asset manager Legg Mason (LM), as well as Chinese investment banking firm China International Capital Corporation and the Shanghai-based financing firm Far Eastern Horizon.
"The volatile economic environment has created a demand for both capital and operational expertise," said Mack in a statement. "I am proud to join a team that offers both of those things.
Publicly traded since July 2010, KKR's stock is up 14% since the start of the year.
Mack served as Morgan Stanley's (MS, Fortune 500) CEO from 2005 to 2010, steering the bank through the financial crisis. During Mack's tenure, Morgan Stanley received emergency funding from the Federal Reserve and $10 billion under the Troubled Asset Relief Program, or TARP. It repaid its government debts in July 2009.
On January 1, 2012, Mack stepped down as chairman of Morgan Stanley, a role he held since giving up the CEO spot. Mack's successor, James Gorman, now holds both the chairman and CEO titles.
Mack's next steps have been much anticipated on Wall Street.
Before taking the helm at Morgan Stanley, he served as chairman of Pequot Capital Management. Before that, he was CEO of Credit Suisse (CS).