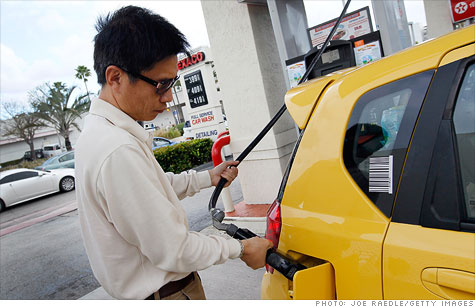 Influential oil consultants, including Dan Yergin, say limits on speculators in energy markets will led to less production, job losses and higher prices.
NEW YORK (CNNMoney) -- One of the most influential consultants in the oil industry said Wednesday that a law intended to limit speculation in oil markets will lead to less energy production, fewer jobs and increased prices for consumers due to how the law is being implemented.
According to consultancy IHS, proposed trading limits on oil speculators such as big banks and hedge funds would lead to fewer opportunities for energy producers and consumers to mange risk. In turn, that would lead to fewer investments from energy companies, fewer jobs in the sector and higher prices for consumers.
"The regulations, as currently envisioned, could create a significant ripple effect through the energy economy that would reduce production, increase the cost of electricity and gasoline and ultimately affect jobs," said Kurt Barrow, vice president at Purvin & Gertz, a division of IHS.
The proposed regulations stem from the Volcker Rule in the Dodd-Frank Act. They call for limiting the amount of commodities contracts that can be held by entities like big banks and pension funds that don't actually use the commodity being traded.
IHS said prices will rise because the proposal doesn't allow sufficient leeway for "market makers," which are banks or other institutions that line up buyers and sellers of commodities. (See correction)
The rules, bitterly opposed by Wall Street, recently went through a public comment period. The IHS report, commissioned by Morgan Stanley -- a big commodities speculator -- was written as part of the public comment process.
IHS is often commissioned by various industries to conduct studies. One of its energy divisions, IHS CERA, was founded by renowned energy analyst Daniel Yergin and is considered to have some of the best data and analysis available.
The study looked at the impact of the proposed regulations on three specific areas of the energy industry in the United States -- natural gas extraction, electricity generation, and oil refining on the East Coast.
According to the report, refineries, which are often owned by small independent companies, now depend on their banks' hedging strategies to protect against price volatility. If refiners can't gain access to the capital provided by the big banks it said some recent refinery closures would become permanent.
That would mean the region would have to import more gasoline from Europe and the Gulf Coast. But with less ability to hedge gas prices while the gasoline in is transport, energy providers would need to charge more for the product. IHS estimated gas prices on the East Coast would rise by 4 cents a gallon if speculators were limited by means of the current proposal.
With natural gas, the report said limiting speculators would reduce the ability of gas drillers to borrow against future earnings. That would lead to decreased investment to the tune of $7.5 billion a year, which would curtail production by 3% from current levels and lead to a 30% jump in prices. It would also cost 182,000 jobs.
The higher natural gas prices would in turn lead to $5.3 billion per year more in additional electricity costs for consumers, the report said.
The report noted the higher energy prices would likely have a ripple effect throughout the economy, including cost pass-throughs that might occur in the trucking, airlines, and railroads.
On an economy-wide basis, the report said the proposed rules would lead to $34 billion in reduced economic activity by 2016.
"We see significant costs from the regulations as drafted," said Yergin on a conference call with reporters.
The role commodity speculators play in causing high oil prices is the subject of intense debate.
Many believe the sheer amount of money flowing into commodity markets is artificially driving up prices. Others say they are having a limited impact as they don't usually take delivery of the goods.
The government is currently deciding whether or not to implement the proposed regulations.
Correction: An earlier version of this story incorrectly characterized the findings of an IHS report about the impact of proposed regulations stemming from the Volcker Rule on energy prices. In fact, IHS said the regulations will cause prices to rise because they would limit banks' ability to act as middle men between producers and consumers of energy.