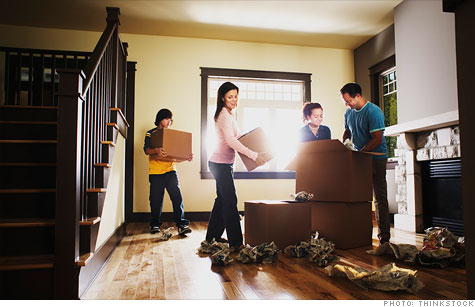 Young people living at home can act as a drag on the economy.
NEW YORK (CNNMoney) -- Alean Elston just cannot find a job.
The 26-year-old from New Jersey has tried nearly everything. She has mailed resumes, asked friends and family for leads and dropped in on retail outlets in hopes of finding work.
Applying for job after job with no luck is nothing new for the 2009 business administration graduate. And as a consequence, she lives at home with her parents. Fact is, she cannot afford a place of her own.
Elston is far from alone.
Younger workers were disproportionately affected by the recession. As a group, they had a very tough time finding work, and many highly educated graduates were forced to take menial jobs or retreat to the safety of academia.
The lack of good jobs means that young people are stuck at home -- a common occurrence during tough times. While not ideal, families face no easy alternatives.
"The fact is, most young people are not so fortunate that their parents can purchase them a condominium or house just for fun," said Anthony Sanders, a senior scholar at the Mercatus Center.
In econospeak, the process of a young person finding accommodations of their own is called "household formation" -- and that stalled big-time during the recession.
The trend toward staying home for longer means the economy is denied dollars that, under different circumstances, young people would have been eager to spend.
Beyond rent or mortgage payments, new living arrangements often require investments in furniture, flatware, appliances, plants for the yard and insurance policies. Even new car sales can be affected.
And reduced household formation can contribute to a lack of demand in the housing market. That trend was especially troublesome during the last recession, as foreclosures spiked and already high inventory levels jumped off the charts.
"We ended up with far too many [housing] units and the bubble popped with a violence that shook the entire economy," Warren Buffett wrote in his 2011 letter to Berkshire Hathaway (BRKB) shareholders.
The excess inventory meant a sharp reduction in homebuilding and jobs in the construction industry.
The number of new housing starts fell from a peak annual rate of more than 2 million in some months of 2006 to a recession low of only 478,000 starts in April 2009.
Even after the recession was declared officially over, companies weren't hiring young people. Young people weren't moving out and soaking up excess housing inventory. And new homes weren't being built, acting as a significant albatross around the economy's neck.
This negative feedback loop has proven quite difficult to break.
But now, Buffett and others believe the trend might be reversing.
"The devastating supply/demand equation is now reversed," Buffett wrote to Berkshire investors in February. "Every day we are creating more households than housing units."
"People may postpone hitching up during uncertain times, but eventually hormones take over," he said. "Living with the in-laws can quickly lose its allure."
The numbers back Buffett's hypothesis. Household formations rebounded last year, and are now closer to historical averages. And new home starts picked up steam in the final months of 2011 -- momentum that has carried over into this year.
Buffett's musings on hormones aside, there is another explanation for the uptick in household formation: More jobs.
Over the past two years, the employment population ratio, which measures the proportion of population that works, has improved more rapidly for young people than other demographic groups.
That ratio has increased almost 2 percentage points for individuals aged 20 - 24, while older workers have seen their numbers improve by only half a point.
Add that to a string of solid monthly jobs reports, and things are looking up.
Sanders agrees with Buffett in principle, but cautions against popping the champagne just yet. "The job market is still so bad," Sanders said. "Especially for college and high school grads who are not in high demand areas."
"We are seeing more and more recruiters showing up to campuses," Sanders said. "But the recruiters are coming with very specific ideas of who they want to hire."
Greg Kaplan, an economist at the University of Pennsylvania, said that there is no guarantee that more young people will move out on their own as the economy and job market improve.
"It's possible that we look like Italy now, where housing costs are just so high that people are going to live with their parents for a longer period of time," Kaplan said.
Elston, for one, can't wait to move out -- if only that job would arrive. She said she applies for at least two positions a day, and has been working odd jobs to help her parents pay the bills.
"It just feels like an endless cycle," she said. "It seems like I'm the perfect candidate for some of these jobs, so why not me? Why not?"