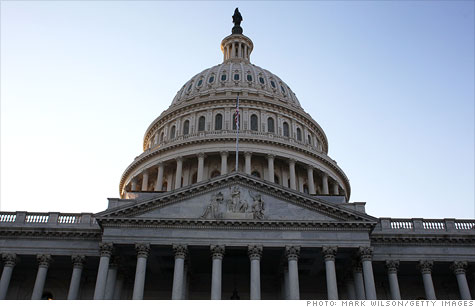 Senate confirmed 70 nominees to various posts, including key financial regulators who had lingered since last summer.
WASHINGTON (CNNMoney) -- A logjam broke late Thursday night in the Senate, which confirmed 70 nominees to various posts, including key financial regulators whose appointments had lingered since last summer.
The recess appointment in January of Richard Cordray to the post of director of the Consumer Financial Protection Bureau had irked Republicans, who spent much of the previous year trying to block the president from making exactly that move.
For months, the Senate was unable to muster support for dozens of nominees, including on two chiefs nominated last summer: Thomas Curry to run the Office of the Comptroller of the Currency and Martin Gruenberg to run the Federal Deposit Insurance Corp.
But late Thursday, Senate leaders reached a deal that allowed most of the nominees to clear, although two more recent nominees to the Federal Reserve Board of Governors didn't make the cut.
"It is vital that we have strong leaders in place at our financial regulators as we continue our economic recovery, continue implementation of the Wall Street Reform Act, and are faced with challenges from the crisis in Europe," said Sen. Tim Johnson, a South Dakota Democrat who leads the Senate Banking committee. "I'm glad that the Senate was able to set aside partisan politics and approve these individuals."
For the FDIC board, the Senate confirmed Gruenberg, Thomas Hoenig, former bank president of the Kansas City Fed, and Jeremiah Norton, a former chief atJ.P. Morgan Chase (JPM, Fortune 500). However, the Senate stopped short of confirming Gruenberg to the post of chairman, meaning he will continue to serve as acting FDIC board chief.
The Senate also confirmed Thomas Curry to be the Comptroller of the Currency for the next five years, a nomination many advocates for Wall Street reforms were watching.
Acting Comptroller of the Currency John Walsh has weathered criticism for being too bank-friendly, especially when it came to reforms. For example, Walsh, who joined the agency during the George W. Bush administration,criticized new rules mandating banks strengthen their capital cushions, saying they would threaten the economy.
Additionally, the Senate also confirmed Christy Romero as the new Special Inspector General for the Troubled Asset Relief Program, a job first held by Neil Barofsky. Romero had already made waves in Washington, overseeing some critical reports about the bailout program as the interim inspector.
The Senate also confirmed Mary John Miller to be the new Under Secretary for Domestic Finance at the Treasury Department.
The next federal agency awaiting key confirmations is the Federal Reserve, which is now operating with just five of its seven-member board. Jerome Powell and Jeremy Stein have been nominated to the Fed board.
The Senate didn't include the Fed board nominees because they had only just been approved by the Senate Banking committee this week. Also, a few Republicans expressed concerns about the nominees, a congressional aide confirmed Friday.