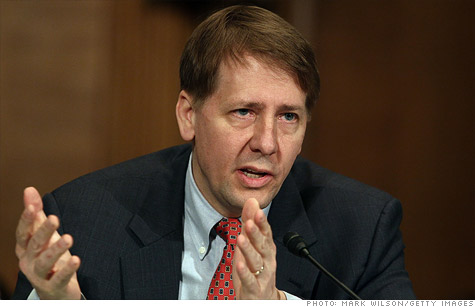 Republicans are still angry at the recess appointment of Richard Cordray, the head of the Consumer Financial Protection Bureau, who was on Capitol Hill on Thursday.
WASHINGTON (CNNMoney) -- House Republicans are still furious about President Obama's recess appointment of Richard Cordray to run the Consumer Financial Protection Bureau.
And the unspoken consequence is that other nominees to key financial regulatory posts have lingered.
"This was a unilateral infringement of the Constitutional powers of this Congress of when it's in a recess," Rep. Scott Garrett, a New Jersey Republican, told Cordray during a House Financial Services committee hearing Thursday. "I find the method that you were appointed offensive and a violation of the Constitution of the United States."
Cordray's recess appointment in January to the post of director irked Republicans, who had spent much of the previous year trying to block the president from making exactly that move.
Republicans demanded Obama agree to structural changes to the consumer bureau, as well as a move that would have weakened the bureau's powers. They had forced the Senate into a series of do-nothing "pro-forma" sessions when lawmakers were on vacation, which Obama basically ignored when he made the recess appointment.
House Republicans made it clear Thursday that, three months later, they still considered the president's move an outrage.
"The cause of greater accountability (at the bureau) was not well served by the circumventing in the Senate," said House Financial Services chairman Spencer Bachus, an Alabama Republican who called Cordray's appointment a "Constitutionally questionable maneuver."
No one has yet to file a legal challenge to Cordray's appointment. Meanwhile, there have been several challenges to the recess appointments of National Labor Relations Board members.
The top consequence of Obama's January recess appointments is that the president can't get other top chiefs confirmed.
Senate Republicans have for months blocked votes on two chiefs nominated last summer: Thomas Curry to run the Office of the Comptroller of the Currency and Martin Gruenberg to run the Federal Deposit Insurance Corp.
The backlog of nominees is now threatening the appointment of Thomas Hoenig to be FDIC vice chairman, as well as more recent nominees of Jerome Powell and Jeremy Stein to be members of the Federal Reserve Board of Governors, which is now operating with just five of its seven-member board.
On Thursday, Senate Democrats and Republicans were discussing a deal that might lead to conformation of those up for financial regulatory posts, and other executive branch nominees who have lingered. Aides for leadership in both parties were tight-lipped on progress on Thursday afternoon.