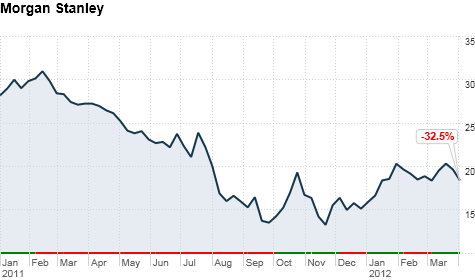 Click chart for more on Morgan Stanley's stock.
NEW YORK (CNNMoney) -- Morgan Stanley chief executive James Gorman's total compensation dropped by 25% in 2011, and none of the firms top executives took a cash bonus, according to a regulatory filing.
The drop in pay came during a year when Morgan Stanley (MS, Fortune 500)'s stock fell roughly 44%. Although shares have rebounded about 24% this year, Morgan Stanley's stock is still down more than 30% from the start of 2011.
Gorman's total payout included his $800,000 salary and a deferred cash bonus of $2.72 million. He also received $5.04 million in restricted shares and $1.94 million performance-based shares.
Morgan Stanley awarded Gorman $10.5 million based on his 2011 performance. He received an additional $2.5 million that was awarded in previous years but only vested in 2011. On that basis, his total compensation would have declined 15%.
In its proxy statement, Morgan Stanley said it cut Gorman's 2011 compensation because the firm "did not fully meet certain 2011 performance priorities."
Gorman's pay is less than half of what rival Jamie Dimon, CEO of JPMorgan Chase (JPM, Fortune 500) and the highest paid bank chief on Wall Street, took home in 2011. Dimon took home $23 million.
In Wall Street's closely watched pay pecking order, Gorman comes in ahead of Bank of America's (BAC, Fortune 500) CEO Brian Moynihan who earned $8.1 million for 2011.
In a letter to shareholders, Gorman gave a nod to some positive steps the company took last year to bolster the bank over the long-term. He cited the conversion of Mitsubishi UFJ Financial's preferred shares into common stock and its $1.7 billion settlement with bond insurer MBIA related to financial crisis lawsuits.
While the bank seemed to be teetering on the edge at times, Morgan Stanley managed to earn $4.2 billion on $32.4 billion of revenue in 2011.
None of the top eight employees at Morgan Stanley, including chief financial officer Ruth Porat, will receive immediate cash bonuses.
Instead, Gorman and the other top officials will get cash and other stock options this year that are subject to so-called clawback provisions. Under those provisions, the company reserves the right to take the compensation back if an executive forces the company to restate earnings or violates the company's standards.
"Morgan Stanley has fundamentally restructured the way it pays its employees, more closely tying compensation to the Company's long-term financial performance," Gorman wrote in his letter to shareholders.
Morgan Stanley said it will hold its 2012 shareholders meeting on May 15, 2012 in its offices in Purchase, NY.