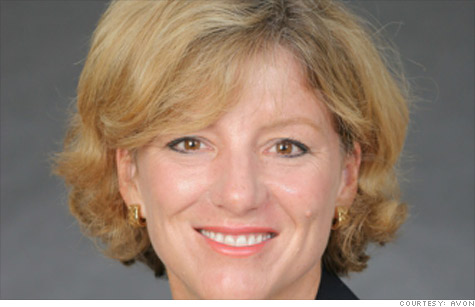 Avon's new CEO joins the troubled retailer after 30 years at Johnson & Johnson
NEW YORK (CNNMoney) -- Avon Products said Monday that it has tapped Johnson & Johnson veteran Sherilyn McCoy to replace Andrea Jung as CEO.
Avon (AVP, Fortune 500) announced at the end of last year that Jung, who had been CEO for 12 years, was stepping down from the top spot, although she will stay on as executive chairman for two years.
McCoy, 53, spent 30 years at Johnson & Johnson (JNJ, Fortune 500), ultimately controlling brands like Neutrogena, Aveeno, and Lubriderm.
"The fact that they've been able to attract someone of her caliber answers one of the questions investors had, which is would a new CEO have the full authority needed to make changes," said Connie Maneaty an analyst at BMO Capital Markets.
For a company whose stock is down 27% since the beginning of 2010, news of a potential takeover last week by rival Coty was cheered by investors. The stock shot up nearly 18% after the bid was announced. But Avon quickly rejected the offer.
"The Coty approach was an indication if investors didn't see value then someone else did," said Maneaty.
Investors were less enthralled by the CEO announcement, with Avon's shares falling roughly 3%.
"The stock is clearly down because there's a perception that the new CEO decreases the probability that a deal is done," said Mark Astrachan, an analyst with Stifel Nicolaus.
Analysts say that without the Coty offer lingering in the backdrop, investors would have cheered today's announcement.
Should Avon remain independent, analysts worry that a turnaround will take substantial time. During Jung's tenure, Avon struggled to meet its forecasts for sales and profits and has lost most of its foothold in the United States with roughly 85% of 2010 sales and 94% of its profits coming from outside the United States.
The company is also involved in two Securities and Exchange Commission investigations, including one related to Avon employees allegedly bribing foreign officials and the second for allegedly improperly providing information to analysts. Litigation costs have eaten into the company's profits.
With roughly $11 billion in annual revenues, most analysts and investors don't see another buyer with a large enough balance sheet to consider a buyout of Avon.
Analysts and shareholders say the ball is back in Coty's court, as they wait to see whether the $10 billion deal will be sweetened.
"Coty's approach was not going to be its last," said Maneaty. "A company never comes to the table with its best offer first."