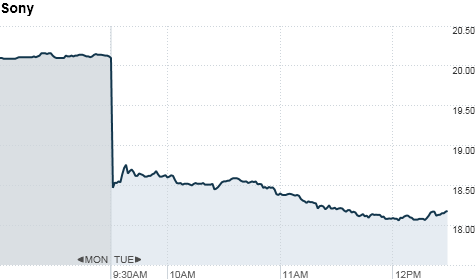 Click for more market data.
NEW YORK (CNNMoney) -- Sony warned Tuesday that its annual loss would be twice as large as its prior forecast, blaming write-offs of deferred tax credits.
The struggling electronics retailer expects to suffer an annual loss of $6.4 billion, or ¥520 billion, for the year ended March 31. That's more than double the initial estimate of $2.7 billion, or ¥220 billion, which Sony has forecast in February.
U.S. listed shares of Sony (SNE) plunged 10% in afternoon trading.
During a press conference, Sony's chief financial officer, Masaru Kato, declined to comment on reports the company is planning to cut 10,000 jobs. But he suggested that Sony is exploring a range of options to boost profitability.
"The key is that we will take resolute measures to transform our business without having any sacred cows," said Kato, adding that "human resources restructuring may be a part of that."
Sony will outline additional restructuring plans Thursday following a meeting of top executives, according to Kato.
"We get the impression that a larger reduction in the workforce will be needed, and we expect further announcements," said Nomura Securities analyst Shiro Mikoshiba, in a client note Monday.
Sony has been hurt recently by a strong yen and weak demand for televisions. But the company has been unprofitable for years as it struggles with rising costs and increasing competition from rivals, such as Apple (AAPL, Fortune 500) and Samsung.
The announcement comes after Kazuo Hirai officially replaced Howard Stringer as chief executive of Sony, in a management shake up that was first announced in February.
The larger-than-expected loss reflects a tax expense of $3.7 billion, or ¥300 billion yen, Sony said, adding that the non-cash charge would not have any impact on its operating results or cash flow.
Tokyo-based Sony plans to officially announce its results on May 10.