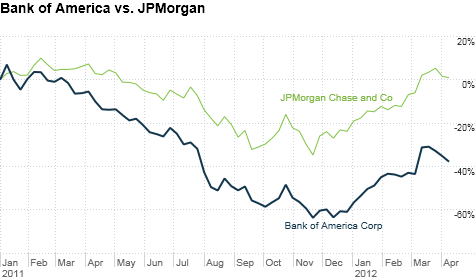 Despite surging in 2012, big bank stock prices still haven't returned to 2010 levels.
NEW YORK (CNNMoney) -- Investors want something new from banks this earnings season: growth.
To justify the high double-digit stock price increases of 2012, investors want to see whether banks have bolstered lending, investment banking services and trading activity and what kind of growth they're forecasting for the next several quarters.
Lending, mergers, IPOs, and bond trading all appear to be picking up steam, although revenue from these segments may still come in below last year's levels.
"We will see a bounce back in quarterly revenue, and the U.S. mega-banks have been picking up market share globally," said Anthony Polini, a bank analyst at Raymond James. "But people still feel like we're a few quarters away from understanding what more normalized income will look like."
Polini expects all the major banks to show growth in specific areas. JPMorgan will likely announce big increases in mortgage and commercial lending. Bank of America, which has been scaling back on home loans, should show growth in commercial lending. Citigroup will likely discuss its international loan growth.
Still, Polini said banks' near- and long-term growth projections will be largely tied to the health of the global economy, which remains a big question mark.
Bank stocks, the biggest losers of 2011, have been on a tear this year. Bank of America (BAC, Fortune 500)'s stock has spiked 54% this year, after falling 58% in 2011. Morgan Stanley (MS, Fortune 500), Goldman Sachs (GS, Fortune 500), Citigroup (C, Fortune 500), Wells Fargo (WFC, Fortune 500), and JPMorgan Chase (JPM, Fortune 500) have seen share prices increase between 15% and 33%.
Still, with the exception of Wells Fargo, the other five major banks' share prices are still below late 2010 levels.
This year's focus on growth is a turnaround from what investors wanted to see in 2011. Last year, investors wanted to see a slowdown in defaults, asset sales, and other signs that the major banks could stay solvent.
For most of the second half of 2011, banks had to actively prove to investors that they wouldn't simply evaporate like Bear Stearns and Lehman Brothers in 2008 and MF Global in October 2011.
For now, growth isn't expected to come from acquisitions. The Federal Reserve dictates just how big the major banks can be, and it's well understood that they don't want to see the big banks getting any bigger.
"The Fed won't let the banks do it," said Nancy Bush, a banking analyst at NAB Research. "The Fed does not want to see a headline that Jamie Dimon buys another bank."
And now that most of the major banks have passed recent Federal Reserve stress tests, several investment bankers say the desire to sell more assets may be limited. The banks may not need the capital.
"We had accelerated asset sales leading up to the stress tests," said Polini. "I think we're probably going to see a slowdown [in asset sales] because there's some comfortability that they passed the stress tests."
The big exception could be Citigroup's sale of its 49% stake in Morgan Stanley Smith Barney brokerage business back to Morgan Stanley, which has the option to buy 14% of Citigroup's stake this summer.
Analysts and investment bankers said that Citigroup might discuss selling all of its stake during next week's earnings call. The Fed told Citigroup that it would need to submit a plan to show how it could increase its capital reserves to become less vulnerable in an extreme circumstance.
JPMorgan, the first bank to report earnings, will release its results Friday morning before markets open.