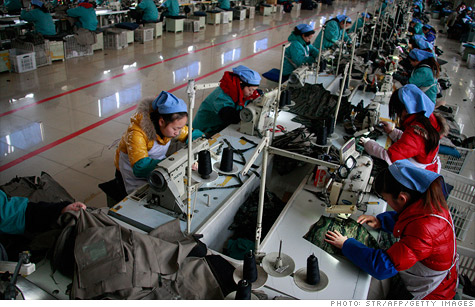 NEW YORK (CNNMoney) -- China's economic growth lost more momentum at the beginning of the year, but other signs are showing the slowdown is unlikely to continue for long.
The Chinese economy grew at an annual pace of 8.1% in the first quarter, the National Bureau of Statistics said Friday, marking a deceleration from an 8.9% growth rate in the prior quarter.
Historically, that is low for China, which has barreled ahead at around 10% for three decades.
But it's also far from the "hard landing" feared by some economists. As the world's second largest economy, a major slowdown in Chinese growth could have a devastating effect on global economic growth.
But economic indicators now show Chinese economic growth may have recently bottomed out, and is starting to bounce back. A government reading on the manufacturing sector has recently shown improvement, as has an OECD forecast of future economic activity.
Meanwhile, Chinese officials have several tools at their disposal to boost economic growth. They've already started increasing the money supply and new loans have started to pick up in the country.
"For some sectors, the slowdown may have felt very hard. But this really is old news -- we have all done our field trips and looked at various reports and knew the economy was weak -- today's data just confirm that," said UBS economist Tao Wang in a note to clients. "Looking ahead, there are already signs of stabilization and improvement."
China's economy started slowing late last year following government efforts to cool rampant inflation and deflate a housing boom in the country.
Meanwhile, a shrinking eurozone economy and sluggish growth in the United States have also weighed on China's manufacturing sector and exports.
The Chinese government is now aiming for economic growth of 7.5% in 2012, lower than its goal for last year of about 8%.
That said, the government almost always overshoots its own predictions.
China's State Information Center, a government think tank, forecasts the economy will grow 8.5% in 2012 overall, despite a temporary slowdown in the first two quarters.
Outside groups are also relatively optimistic. The World Bank predicts the Chinese economy will slow to a 8.2% growth rate this year but rebound to 8.6% in 2013.