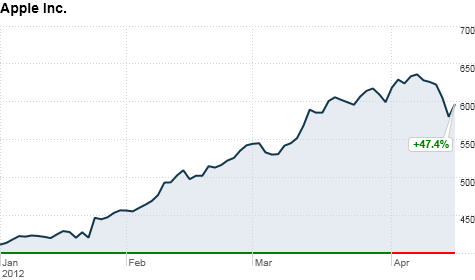 Despite a recent slump, Apple shares are up sharply in 2012.
NEW YORK (CNNMoney) -- Apple's share price made a partial recovery Tuesday, following a five-day slump that halted its Wall Street honeymoon.
The maker of the Mac, the iPod and iTunes had seen its shares soar this year, peaking at $636.23 at the close on April 9. But Apple (AAPL, Fortune 500) fell nearly 9% over the next few days, to a Monday close of $580.13.
But on Tuesday, the stock was back in business, rising early and continuing to climb throughout the day. Shares ended the day up 5%, at $609.70.
James Cordwell, analyst for Atlantic Equities in London, said that Apple's heady gains prior to its peak made the stock "a relatively easy target where people want to take some profit off the table."
He said "there's been a return to the fundamentals" as investors scrutinize demand for the iPad and attempt to forecast the iPhone's trajectory over the next couple of quarters.
Investors will get a better look at the inner workings of Apple on April 24, when the company is scheduled to release its fiscal second-quarter earnings.
"There's likely to be a slowdown as people are anticipating the next model of the iPhone," said Cordwell.
He added that carriers such as Verizon (VZ, Fortune 500) and AT&T (T, Fortune 500) are imposing heftier upgrade fees when allowing customers to trade in their old smartphones whenever Apple releases a hot new product.
"They're tightening their policy because they realize it's affecting their profit," said Cordwell.
Analysts still expect growth from the software giant. Apple is expected to report second quarter earnings growth of 55% in the second quarter to $9.90 per share, according to a consensus of analyst forecasts from Thomson One Analytics.
The Department of Justice filed an antitrust suit against Apple and five publishers on April 12 for allegedly fixing prices on e-books. E-book sales are not a pivotal part of Apple's revenue.