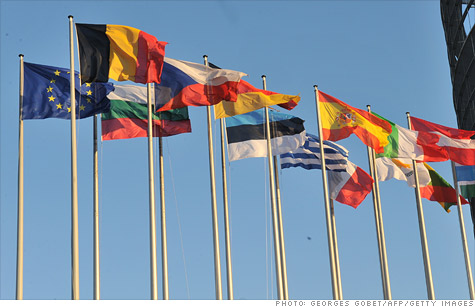 The outlook for global growth is improving but Europe's debt crisis and a potential spike in oil prices remain big risks.
NEW YORK (CNNMoney) -- The outlook for the global economy has improved, but there are still major risks that policymakers need to address, the International Monetary Fund said Tuesday.
The IMF now expects global economic output to increase 3.5% in 2012, according to the latest edition of its World Economic Outlook. In January, the IMF projected a slightly weaker growth rate of 3.3%.
The fund raised its forecast for U.S. economic growth this year to 2.1% from 1.8% in January. But the outlook for Europe remains bleak, with the euro area economy expected to shrink 0.3% this year, according to the IMF.
The debt crisis in Europe and a potential spike in oil prices are the two main risks facing the global economy, the IMF warned.
"The most immediate concern is still that further escalation of the euro area crisis will trigger a much more generalized flight from risk," the report states.
While officials in Europe have taken steps to contain the crisis, the IMF said more needs to be done to address longer-term economic problems in the eurozone.
In addition, the IMF warned that "geopolitical uncertainty" could trigger a sharp increase in oil prices. The fund said a 50% spike in oil prices could lower global economic output by more than 1%.
"The short-term impact could be significantly larger if the adverse oil shock damages confidence or spills over to financial markets," the report sates.
Meanwhile, the outlook for growth in developing nations is relatively robust.
Emerging and developing economies are expected to grow 5.7% this year, compared with growth of 1.4% for advanced economies, according to the IMF.
Still, even emerging economic powers are slowing down. The IMF expects China's economy to grow 8.2% this year, down from 9.2% in 2011.
The IMF said some developing economies may need to offset declining global demand by boosting domestic consumption, but officials should avoid "overstimulating" economic activity.
In advanced economies, the IMF said public deficits need to be reduced, although cutting government spending too quickly could hinder the economic recovery.
Central banks in advanced economies should maintain "very accommodative monetary policy" to help support economic growth, the IMF said.
The outlook was released ahead of the spring meetings of the IMF and World Bank later this week in Washington, D.C.
In a speech last week, IMF director Christine Lagarde called on world leaders to "seize the moment" to push ahead with policies that will boost growth and strengthen the international financial system.