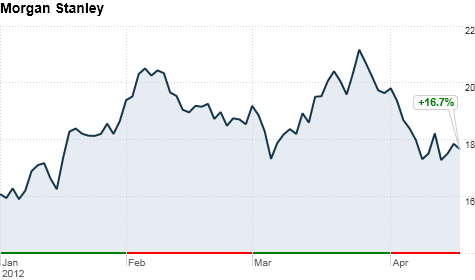 Click chart for more on Morgan Stanley
NEW YORK (CNNMoney) -- Morgan Stanley reported better-than-expected quarterly results Thursday helped by a steep run up in its stock and bond trading activity.
Excluding certain accounting changes, trading revenue increased in the first quarter to $4.14 billion, up 18% from a year earlier, and double from the fourth quarter. Those gains came even as stock trading volume slowed down this year.
Overall trading activity helped the bank post first-quarter net income of $1.4 billion, or 71 cents a share, topping forecasts for earnings-per-share of 44 cents. Revenue of $8.9 billion also beat expectations of $7.37 billion.
Shares of Morgan Stanley (MS, Fortune 500) surged nearly 7% in premarket trading before trimming gains to about 2% during the trading day.
Morgan Stanley's conference call was dominated by talk of how the bank might fare if Moody's downgrades its debt. Moody's has been considering cutting Morgan Stanley's rating by three notches, one notch lower than the potential downgrade for other banks.
The bank's finance chief, Ruth Porat, emphasized the bank's "strong liquidity and prudent liquidity risk management," and said the bank is in a position to manage the effects of a downgrade.
And Morgan Stanley CEO Jamie Gorman hinted that Moody's could reconsider its stance based on the bank's results from the stress test and its first-quarter earnings.
"[Moody's] now has the benefit of two concrete pieces of information that's important and constructive," said Gorman.
Meanwhile, the bank also logged a $2 billion revenue loss related to the value of its debt.
These so-called "debt-related credit spreads" or DVA's had actually boosted Morgan Stanley's bottom line in prior quarters, as the economic environment and the bank's perception in the marketplace worsened.
Factoring in the DVA's, Morgan Stanley recorded a quarterly loss of $94 million, or 6 cents a share, on revenue of $6.94 billion.
The bank touted its top status as number one in global initial public offerings, yet its fees from stock underwriting decreased from the same quarter a year ago. Investment banking revenue also fell, slipping 12% from a year ago to $1.06 billion.
Porat said she's guardedly optimistic about the pipeline for both underwriting and mergers but said that M&A activity is more likely to pick up in the second half of 2012. Porat declined to comment on Facebook's initial public offering or the potential for more big-ticket technology IPOs. Morgan Stanley won the coveted top spot in underwriting Facebook's impending IPO.
Gorman also discussed the future of its Smith Barney joint venture with Citigroup noting that Morgan Stanley has no plans or desire to accelerate its purchase of Citi's 49% stake.
Morgan Stanley has the option to increase its holdings in Smith Barney by 14% in May, and Gorman said Morgan Stanley will weigh that option in the coming weeks.
Meanwhile compensation expenses increased to $4.4 billion, which included severance expenses of $138 million from staff reductions, compared with $4.3 billion in the year-earlier period.
Morgan Stanley's stock is up 16% this year, but still lagging behind Bank of America (BAC, Fortune 500), which also reported earnings that surprised Wall Street early Thursday.
JPMorgan Chase (JPM, Fortune 500), Citigroup (C, Fortune 500) and Goldman Sachs (GS, Fortune 500) have also all reported.