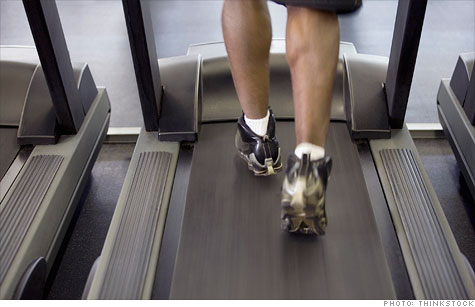 Economic recovery seems to be 'running in place'
NEW YORK (CNNMoney) -- The recovery is still chugging along at a sluggish pace, and unfortunately, it looks like it may stay that way for a while.
Economists surveyed by CNNMoney predict the unemployment rate will slip to 8% by the end of the year, not much of an improvement from the current 8.2% rate.
It's like "running in place," said Lynn Reaser, chief economist at Point Loma Nazarene University. The unemployment rate, which only counts people who have looked for jobs in the last four weeks, recently fell as people dropped out of the labor force.
As the job market slowly improves, more people are likely to start looking for jobs again, Reaser said. That effect could drive the unemployment rate higher, or at least keep it from falling much more.
Meanwhile, job growth simply can't pick up substantially without stronger economic growth, and the outlook on that front isn't rosy either.
Economists estimate U.S. gross domestic product -- the broadest measure of economic activity -- grew only 2.4% in the first quarter of the year, down from 3% at the end of 2011.
The reason for the slowdown lies primarily in business inventories. As companies stockpiled supplies in the last three months of 2011, they drove economic growth higher.
That effect is likely to have waned in early 2012 though, resulting in a lower growth rate in the first quarter.
"Growth prospects should continue to improve in a 'two-steps forward, one step back' type of fashion over the intermediate-term," said Russell Price, senior economist for Ameriprise Financial.
Looking further ahead, economists expect the U.S. economy to grow only 2.6% in 2012 overall.
That's because significant headwinds remain, including Europe in recession, volatility in the stock market and the threat of a "fiscal cliff" looming in 2013. The end of the year is set to trigger massive spending cuts, while at the same time marking the expiration of Bush tax cuts, the payroll tax cut and extended unemployment benefits.
"It's potentially a shock that could really dampen the recovery further if not derail it," said Sean Snaith, director of the University of Central Florida's Institute for Economic Competitiveness.
Several economists had ideas on how to help the economy -- tax reform for instance -- but none expect Congress will agree on anything before the election.
The government will release its first quarter GDP figures next Friday, April 27.