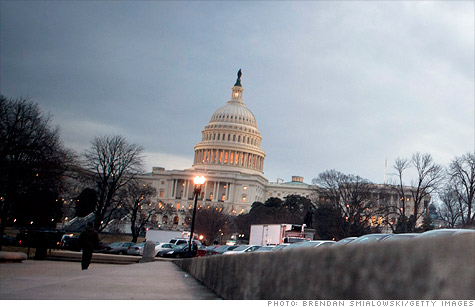 Congress is not helping.
NEW YORK (CNNMoney) -- Since the economy dropped off a cliff in 2008, members of Congress have not exactly been shy about casting blame for no-or-slow growth on a variety of bureaucrats, outside institutions and Wall Street power players.
But if lawmakers are looking for an explanation as to why the recession lasted so long, they should look no further than their own actions.
There is growing evidence that policy uncertainty has contributed to the slow pace and extended length of the current economic recovery.
And who's to blame for that?
Consider what Congress has busied itself with over the past year: An acrimonious debt ceiling debate that nearly resulted in default, a series of battles over whether the federal government should fund its own agencies and a drawn-out fight over whether to extend a 2% payroll tax cut.
Just as telling is what Congress has managed to avoid, namely the development of credible plans to deal with expiring tax cuts, burgeoning long-term deficits or desperately needed systemic reforms.
The theory connecting policy uncertainty to weak growth is not new. The Federal Reserve has long assembled anecdotal evidence from business owners on the effect of policy uncertainty on the way they conduct operations.
In July, just as fears over the debt ceiling were starting to become quite real, the Boston Fed reported that "most contacts express concern about current and future negative effects of increased uncertainty."
And Fed Chairman Ben Bernanke himself wrote a paper in 1983 that showed high levels of uncertainty provide an incentive for businesses to delay capital investments and hiring.
Now, researchers from Stanford and the University of Chicago have tied increased economic policy uncertainty to declines in private investment, industrial production and employment levels.
Using an index that captures mentions of economic uncertainty in the press, the number of federal tax provisions set to expire and forecaster disagreement on inflation and government purchases, the research shows a sharp spike in uncertainty during the financial crisis of 2008.
For the next four years, the massive levels of uncertainty never really abated. And what's more -- much of the increased uncertainty was in the areas of taxes and government spending.
In other words, the uncertainty was being manufactured on Capitol Hill.
"Congress has made things worse with a lot of political posturing and grandstanding," said Nicholas Bloom, the paper's co-author and a Stanford professor. "If you had policymakers who acted decisively, the recession would likely not have been as bad."
The policy uncertainty has real world consequences. Bloom and his colleagues estimate that a return to 2006 uncertainty levels could result in a GDP boost of 2.2%, a 13% increase in private investment and gain of 2.5 million jobs.
The academic findings "reinforce concerns that policy-related uncertainty played a role in the slow growth and fitful recovery of recent years," the paper concludes.
Of course, some sources of uncertainty have little to do with Congress. The index used in Bloom's research shows spikes in uncertainty associated with presidential elections, wars and the 9/11 terrorist attacks.
But uncertainty-inducing events have piled up in recent years. "It's like being caught in a fight with Mike Tyson," Bloom said. "You just keep getting punched in the face."
It's not like politicians are completely tone deaf on the issue.
Republicans on Capitol Hill frequently point to the laws Congress has written recently as a contributing factor in economic uncertainty.
For example, financial firms are now forced to consider the avalanche of new rules being written at regulatory agencies. And some businesses cite the massive health care reform bill as a source of uncertainty.
But on the Hill, debate participants largely talk past one another. Republicans will argue that regulations are shackling businesses. Democrats insist that a lack of demand is the primary reason for slow growth.
Bloom said those aren't mutually exclusive phenomena. "Policy uncertainty reduces demand," he said.
It's not yet clear whether Congress can manage some sort of course correction. The notoriously unproductive group is not expected to complete much work over the remainder of the legislative session.
Lawrence Summers, a former secretary of the Treasury and director of President Obama's National Economic Council, said governments should focus on sound policymaking.
"Businesses are understandably uncertain about their prospects after the events of recent years," Summers wrote in the Financial Times last month. "This is not the time to add unnecessarily to their worries."
Looking ahead, Bloom sees reason for concern.
The uncertainty index has dropped precipitously in recent months, he said, but "dark clouds are on the horizon" primarily due to lingering eurozone risk and domestic tax policies that expire at the end of 2012.
Later this year lawmakers will have to decide, among other things, whether to extend the payroll tax cut, long-term unemployment benefits, the Medicare doc fix, a bevy of business tax breaks and the Bush tax cuts.
And that's just taxes. Congress also has to figure out what to do about the impending enactment of the automatic spending cuts that many want to replace.
"You've got these business owners in places like North Carolina saying uncertainty is slowing them down," Bloom said. "You've got to take those stories seriously."