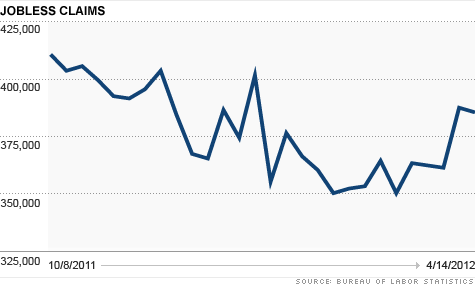 NEW YORK (CNNMoney) -- Weekly initial jobless claims are on a roller coaster once again.
About 386,000 people filed for their first week of jobless claims last week, according to the Labor Department. While that marked a decrease of 2,000 claims from the week before, it was only because the previous week's number was revised higher than originally reported.
It was also much higher than the 375,000 claims economists had expected.
Initial claims are considered a key measure of the strength of the job market. When they fell to four-year lows a couple months ago, it was seen as an encouraging sign that layoffs were waning and companies were hiring more workers.
But now initial claims are back at higher levels, adding to fears that the job market's recent gains may be fizzling. Indeed, the Labor Department's monthly jobs report showed employers added only 120,000 jobs in March, a significant slowdown from the 240,000 jobs added just a month earlier.
Could that sluggish momentum continue?
Economists surveyed by CNNMoney expect the economy to add an average of 162,000 jobs per month from now until the end of the year -- barely enough to keep up with population growth. They predict the unemployment rate will fall to 8%, not much of an improvement from the current 8.2% rate.
But economists also caution not to put too much stock in the recent choppiness in initial claims. It could be more "optics than economics," said Nomura economist Jeffrey Greenberg, in a note to clients.
The data is seasonally adjusted but still tends to be volatile around this time of year. The Easter holiday and school spring breaks are in different weeks each year, making it difficult for the Labor Department to accurately adjust for those distortions.
How does that impact the numbers? Some states, like New York for example, allow school contractors like cafeteria workers and bus drivers to apply for unemployment benefits when school is out of session.
Once those seasonal distortions dissipate, initial claims could head back down to their four year lows again.
"Easter comes every year, but the six-week window in which the date moves causes havoc with the seasonals," said Ian Shepherdson, chief U.S. economist with High Frequency Economics. "The underlying trend, we think, is probably flat or slowly downwards, and it will reappear soon."
Because weekly jobless claims can be volatile, economists often prefer to look at the average number of claims over a four-week period. That figure rose to 374,750 last week.
Meanwhile, 3,297,000 people filed for their second week of unemployment benefits or more in the week ended April 7, the most recent data available. That marks a 26,000 increase from the prior week.
Did you choose not to use all your vacation days last year? Why? Email us your contact information and story, and you could be featured in an upcoming article on CNNMoney.