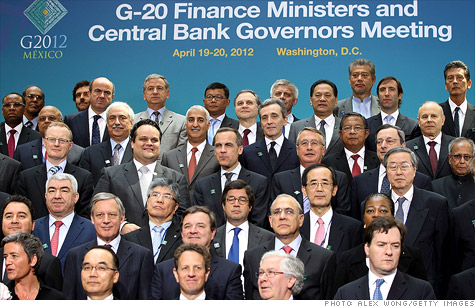 Members of the G-20 finance ministers and central bank governors at the World Bank and IMF spring meetings.
WASHINGTON (CNNMoney) -- The International Monetary Fund said Friday that it has received commitments from several nations for more than $430 billion in additional funding to guard against global risks.
"This signals the strong resolve of the international community to secure global financial stability and put the world economic recovery on a sounder footing," said IMF managing director Christine Lagarde.
The announcement came near the end of a week of talks in Washington D.C., where finance officials from the world's largest economies gathered for the spring meetings of the IMF and World Bank.
The IMF, which lends money and provides technical support for countries in crisis, has already disclosed commitments from several of its 188 member nations.
Including pledges announced Friday from Australia, Korea, Singapore and the United Kingdom, the IMF has secured at least $357 billion in additional loans.
Lagarde said the IMF has also received commitments from Russia, India, China and Brazil. However she said those nations will officially announce the details later. Including those commitments, Lagarde said the overall amount is "north of $430 billion."
"That almost doubles the lending capacity of the fund," she said, estimating that the IMF now has more $1 trillion to lend.
The United States, which is the largest IMF shareholder, has declined to provide additional funds for the institution. The U.S. stands behind nearly 18% of the IMF's resources under the fund's current quota system.
U.S. officials argue that the nation has contributed in other ways to stabilize the global economy.
The IMF is seeking to raise money as it prepares for an estimated $1 trillion in funding needs over the next few years. The fund has warned that the global economy faces serious risks, despite a modestly improving outlook for growth.
"We made a call to action, and our members have delivered," said Lagarde.
Lagarde has called for a "global firewall" to protect the world economy from potential risks. She has urged policymakers to take "collective action" to address the "dark clouds" hanging over the economy.
Lagarde told reporters Thursday that the debt crisis in the eurozone is the "epicenter of potential risk," though she welcomed the steps officials have taken over the last few months.
In addition, she pointed to threats posed by high unemployment, tepid growth, problems in the banking sector and rising oil prices.
The additional resources will be available to all IMF members and will be subject to "risk mitigation features," among other conditions to protect creditors. The funds will be provided as temporary bilateral loans and note-to-purchase agreements, according to a joint statement from the IMF and Group of 20.
The move "shows the commitment of the international community to safeguard global financial stability and put the global economic recovery on a sounder footing," the G20 finance ministers said in a statement.