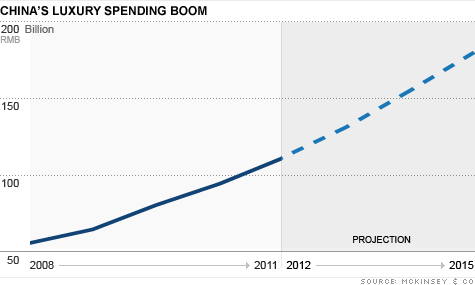 China is on pace to top Japan as the world's largest market for luxury goods, with sales surging 18% annually to hit $27 billion by 2015. That's a fifth of the worldwide total.
NEW YORK (CNNMoney) -- China's broader economy may be losing momentum, but its big spenders aren't letting anything get in the way of their love affair with Louis Vuitton, Chanel and Gucci.
China is on pace to top Japan as the world's largest market for luxury goods, according to McKinsey & Co., which estimates sales will surge 18% annually to hit $27 billion by 2015. That's a fifth of the worldwide total and up from just $10 billion in 2009.
"China's consumer is still in its infancy," said Wendy Trevisani, a portfolio manager at Thornburg Investment Management. It's true that exports and real-estate investment are softening, but Trevisani contends consumer spending is growing "pretty much without hesitation."
In fact, consumer spending is forecast to account for 43% of China's GDP growth by 2020, up from about a third currently, according to McKinsey. That's in line with the nation's current five-year plan, which aims to help the country become less dependent on exports and investment-led growth.
And with China's appetite for Western goods, luxury brands stand to be big beneficiaries.
One of Trevisani's biggest holdings in the co-managed Thornburg International Value Fund (TGVAX) is LVMH Moet Hennessy Louis Vuitton, the world's largest luxury goods groups with its 60 brands including its namesakes, Marc Jacobs, Tag Heuer and beauty retailer Sephora.
Thanks to its 20% gain this year, the stock is one of the best performers in the Thornburg fund.
LVMH's first-quarter sales jumped 25% thanks to China. And while Chinese buyers are Louis Vuitton's biggest customers already, the market is far from saturated.
Nearly every brand of the company is focused on tapping further into China.
Diamond jeweler De Beers, an LVMH brand, opened its first store in China less than a year ago in Beijing. Louis Vuitton boutiques, which already boast multiple locations in China's big, thriving cities, are continuing to expand, even making a push into the country's second- and third-tier cities.
Meanwhile, the head of the LVMH's wine and spirits group, Christope Navarre, recently announced that the company has found land in China that is perfect for a vineyard, and will be producing a super-premium red wine within two years. "The potential is huge," Navarre said.
LVMH, of course, is not the only luxury company enjoying success in China. Following Louis Vuitton, private label Chanel and Gucci, owned by PPR were the most desired brands in China last year, according to research by Bain & Co.
Compagnie Financière Richemont, known for its Cartier jewelry and watches, is also gaining traction. Between 2006 and 2011, its China and Hong Kong sales more than tripled.
Despite that growth, Cartier CEO Bernard Fornas recently told the Wall Street Journal that the company has not even "scratched the potential" of many cities in China.
Although China is not its biggest market yet, Fornas said many Chinese consumers are already big Cartier clients in other markets.
Prada, which includes the namesake label as well as Miu Miu and others, has also made a big bet on China. Prada's sales in Asia, excluding Japan, climbed 42% in 2011, and nearly a quarter of the new stores the company opened last year were in the region.
The Italian fashion house also made its public debut on the Hong Kong stock exchange last year, as it continues to expand its international presence.
Chinese consumers have also embraced Coach (COH), which listed depositary receipts on the Hong Kong stock exchange last year and operates more than 80 locations through Hong Kong and China.
In addition to fashion and jewelry brands, luxury car manufacturers are also luring in Chinese customers.
Sales of Tata Motors' (TTM) Land Rovers, Ranger Rovers and Jaguars jumped 60% in China in 2011, and last month, the company inked a deal with China's Chery Automobile to manufacture and sell luxury cars in China.
Sales of Daimler-owned Mercedes-Benz, Volkswagen's Audi, and BMW vehicles also continue to grow at a red-hot pace.
U.S. automakers Ford (F, Fortune 500) and General Motors (GM, Fortune 500) are also continuing to successfully grow in the world's second-largest economy.
GM sold a record number of vehicles in China during the first quarter, up more than 10% from a year ago.
While Ford's first-quarter sales declined in China, the company recently announced that it is investing $600 million in one of its Chinese manufacturing facilities to meet growing demand.
As China's economy continues to grow and create more wealth, average household spending is likely to follow, a healthy signal for Western brands. And the outlook is particularly bright for luxury companies, since the biggest increase in spending is forecast to come from the most affluent consumers.
Consumers who spent $2,000 and $4,000 on discretionary items in 2010 are expected to raise that to $3,000 and $6,000, respectively, by 2020, according to McKinsey. And consumers who allocated $12,000 toward discretionary spending in 2010 are forecast to almost double that figure by 2020.