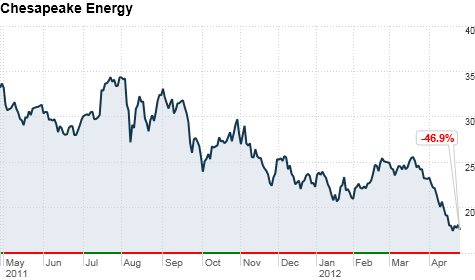 Click the chart to track Chesapeake Energy's stock.
NEW YORK (CNNMoney) -- Chesapeake Energy's CEO is about to lose a controversial perk that allowed him to take personal stakes in wells drilled by the company.
Chesapeake's board said Thursday Aubrey McClendon agreed to negotiate an early termination of the program, which was overwhelmingly approved by shareholders in 2005 for a 10-year term.
The board is also reviewing the financial deals between McClendon and "any third party that has had or may have a relationship" with Chesapeake.
The incentive program, Founder Well Participation Plan, came under fire last week following news that McClendon took out loans worth over $1 billion against his personal stake in the company's wells, raising concerns about a conflict of interest.
Last week, Chesapeake's general counsel Henry Hood said that the company's board was "fully aware of the existence" of McClendon's loans.
But on Thursday, the company changed its tune, claiming that the board "did not review, approve or have knowledge of the specific transactions," but was only "generally aware" that McClendon used his stakes in the wells to take out loans.
"This is a significant change in the company's language and PR strategy, and very worrisome for what's to come," said Jonathan Henderson, an analyst who said he has been looking into Chesapeake's recent problems extensively. "At first, Chesapeake was very defensive, and now it's on the offense. It's possible that they're taking a step back and realizing that McClendon might have breached his fiduciary duty."
Henderson thinks the company might be "distancing" itself from McClendon's personal financial transactions because it might be looking to replace McClendon as CEO.
"This is the second time Chesapeake has had a corporate governance issue with McClendon, and a lot of investor faith has dissipated," he said. In October 2008, McClendon was forced to sell nearly all of his shares in Chesapeake to meet margin loan calls. The company's stock plunged more than 40% the week that McClendon unloaded his shares.
Chesapeake's announcement comes on the heels of an informal inquiry by the Securities and Exchange Commission into Chesapeake's well program, according to Reuters.
As the nation's second-largest natural gas producer, Chesapeake has been struggling lately with natural gas prices near record lows due to a growing supply glut.
In fact, the company is working to plug what's been estimated as a $9.2 billion gap between its 2012 capital expenditures and its cash flow.
Following Thursday's announcement, Standard and Poor's cut Chesapeake's credit rating, pushing it further into junk territory. The rating agency said that the "turmoil resulting from these developments could hamper Chesapeake's ability to meet the massive external funding requirements stemming from its currently weak operating cash flow and continuing aggressive capital spending."
Shares of Chesapeake (CHK, Fortune 500) ended 3% lower Thursday. The company's stock has tumbled more than 8% during the last week.