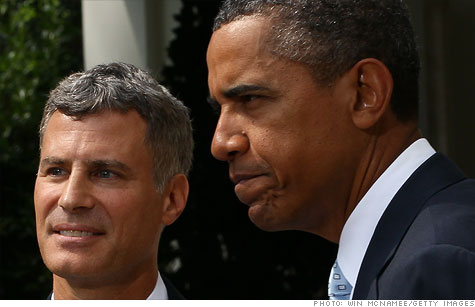 The decline of middle class jobs started long before the financial crisis, President Obama's chief economic adviser Alan Krueger said Thursday.
NEW YORK (CNNMoney) -- The middle class may be starting to heal from a decades-long decline, President Obama's chief economic adviser said Thursday.
"While one should not expect problems that have been building for decades to be solved overnight, the record to date provides evidence that progress is being made," said Alan Krueger, chairman of the Council of Economic Advisers.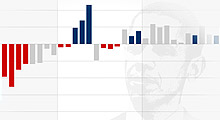 The U.S. lost 4.3 million jobs in President Obama's first 13 months in office. Track his progress since then.
"We can now see a path toward reversing the decades' long slide in middle-class jobs for the first time in a while."
Speaking at Columbia University, Krueger pointed to what he called "the middle-class jobs deficit."
"Simply put, for over a decade the economy has not been producing enough middle-class jobs," he said.
Wages started falling for less educated workers in the late 1970s, he said, but the problem also spread to workers with college degrees. At the same time, the percentage of Americans completing college has stagnated.
The United States has the "best educated 60-year-olds in the world" but is in the middle of the pack when it comes to its 30-year-olds, he said, citing a study by the Organization for Economic Cooperation and Development.
According to that research, the U.S. has the largest share of college educated 55- to 64-year-olds of any developed country, but ranks 15th when it comes to 25- to 34-year-olds. Korea ranks first on that front.
Krueger also focused on the loss of manufacturing jobs to lower wage countries, a trend he says revved up in the early 2000s, partly because China wasn't playing fair in international trade.
Not surprisingly, he also spoke highly of the president's economic policies and pushed improvements to both manufacturing and education as the keys to bringing back middle-class jobs.
Krueger backed the president's proposal to extend lower student loan rates for example, a talking point that has recently become one of Obama's key campaign issues.
He also pushed for job training for displaced workers, funding for community colleges and Obama's tax proposal that would cut the tax rate for manufacturers to 25%.
The American economy lost 4.5 million jobs in President George W. Bush's last year in office. After President Obama was inaugurated, the bleeding continued, with the economy losing another 4.3 million jobs.
As of March, the economy has gained back only about 3.6 million jobs.