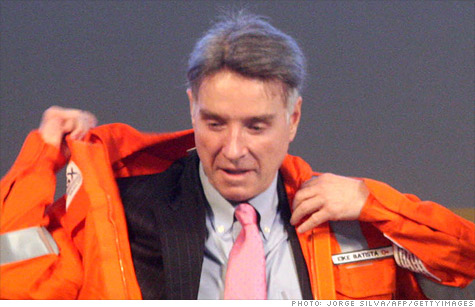 Eike Batista, Brazil's first billionaire, questions China's attempts to export Chinese workers into international projects at the Milken Global Institute Conference.
LOS ANGELES (CNNMoney) -- Even as emerging market growth slows, China and Brazil still expect the kind of growth that makes American and European policymakers salivate.
Yet these superpowers haven't yet formed healthy, mutually beneficial economic alliances. The push-pull between the two illustrates the challenges both countries have as they try to amass global scale.
Xi-Qing Gao, the head of the Chinese government's roughly $400 billion private investment fund, said he's wary of investing in Brazil because tax changes and new governmental mandates are unpredictable.
"Unlike in some of the emerging market countries, the Brazilian government sometimes shifts its policies in terms of taxation," said Gao, vice chairman of the China Investment Corp. (CIC) during a panel at the Milken Institute Global Conference in Los Angeles.
Gao said that the CIC had planned to help the Brazilian government set up high speed railways for the Olympics. But the government mandated that only Brazilians could do the work, and that would add roughly 2.5% to the project's cost, estimated Gao.
Eike Batista, Brazil's first billionaire who founded Brazilian conglomerate EBX, said that China's demands to export its workers rather than simply its technology and monetary investments makes him wary of teaming up with Chinese companies, even though he has done so.
Unlike China, Batista said the United States is simply willing to sell its goods and services abroad. "Without General Electric (GE, Fortune 500), Caterpillar (CAT, Fortune 500), I would not be able to produce oil in my country," he said.
Gao admitted that his fund has gotten some pushback from Argentina and other countries, but not Brazil. "We should be an ideal investor," said Gao, noting that the CIC typically only takes minority, non voting stakes in companies. "But Brazil and Argentina are very often suspicious of Chinese intent."
Still, with China holding more than $1 trillion in U.S. Treasuries, the American government clearly has not been wary of taking Chinese investments. The U.S. economic system if anything would fall apart if China chose to stop buying U.S. debt.
"The first thing you learn in real estate is never beat up your banker," said Barry Sternlicht, CEO of real estate firm Starwood Capital said on the panel. "We need you guys. If you want the Chinese to consume so aggressively, god forbid they stop exporting to us and don't have the need to invest their cash in our deficits."
Meanwhile, Gao said China's private investment fund was created to diversify away from U.S. Treasuries. "We're constantly told by the U..S government that you've accumulated too much."
While Gao didn't say China plans to slow down its purchases he did make one comment while chuckling. "In the past 1500 years of history, governments bonds are one of the worst investments."