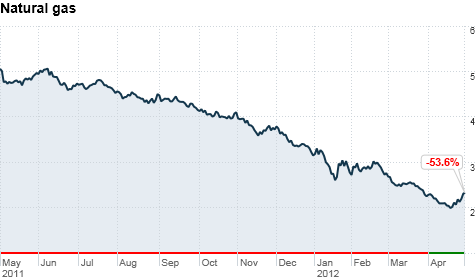 Expect $3 natural gas in a year. Click chart for more prices.
LOS ANGELES (CNNMoney) -- Natural gas prices may have finally bottomed out, after hovering around 10-year lows for weeks, said energy magnate T. Boone Pickens.
Prices have slowly started creeping above the $2 mark after settling below that level just a couple of weeks ago.
"The price for natural gas has smoothed out pretty good," Pickens told reporters on the sidelines of the Milken Institute Global Conference in Los Angeles. "I think it's bottomed."
Pickens said he wouldn't be surprised to see natural gas prices at $3 in a year's time. That would be welcome news for companies such as Chesapeake Energy (CHK, Fortune 500), Devon (DVN, Fortune 500) and EOG (EOG, Fortune 500) that have been trying to cut production.
These companies have been hampered by higher oil prices since many natural gas producers simultaneously produce oil from the same wells.
Pickens also thinks oil prices will continue to rise.
"I think you're going to find oil will get pretty tight this summer," he said. "The Saudis don't have as much oil as they say they do."
Pickens says that anything Saudi Arabia produces above 10 million barrels a day will come from storage and not new production. And it could come just as demand heats up.
Pickens forecasted prices for Brent crude -- Europe's benchmark -- to hit $150 a barrel by this summer.