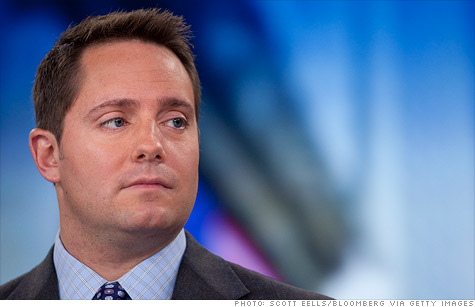 Muddy Waters, one of the most prominent whistleblowers of Chinese companies, is looking to make a long-term bet, but so far, the candidates just haven't been right.
NEW YORK (CNNMoney) -- Investing in China can be complicated, to say the least. Just ask Carson Block, the founder of Muddy Waters Research, known for his keen eye for spotting fraudulent accounting practices at Chinese companies.
Block first noticed a deep-rooted problem within Chinese companies, particularly those listed on U.S. and Canadian stock exchanges, less than two years ago. At the request of his father, who was seeking to invest in small Chinese companies, Block looked into Orient Paper (ONP), a paper manufacturer and distributor based in the Hebei province and listed on the American Stock Exchange.
After digging into the company's financial documents and visiting a manufacturing plant, Block issued a report calling the company a fraud, alleging that it misappropriated tens of millions of dollars and overstated its revenue, assets, inventory and profit margin figures.
He sent his report, which highlighted Muddy Waters' bet against the stock, to just 50 acquaintances in the investment world. It went viral, and Orient Paper's stock sank almost 40% in the three days following the report's release.
Following the Muddy Waters report, Orient Paper hired an advisory firm to conduct a third-party investigation of its accounting. The investigation didn't find any evidence supporting Muddy Waters' claims, but shares of Orient Paper are still down more than 60% since the day the report came out.
Block said that in the days after his first report on Orient Paper, he was contacted by a number of investors that praised his research and Muddy Waters for being the first to "successfully prove a Chinese company's fraud."
They also told him that Orient Paper was just the tip of the iceberg.
"My assumption at the time was there could be a few other Chinese companies that were frauds and were connected to some of the same people in the background at Orient Paper, but I was really underestimating the problem," said Block.
Since then, Muddy Waters has set its sights on many other Chinese companies. It has issued scathing reports and taking short positions against a slew of companies including Focus Media (FMCN), Rino International (RINO), China MediaExpress (CCME) and Duoyuan Global Water (DGWIY).
Rino and China MediaExpress have subsequently been delisted from Nasdaq while Duoyuan has been delisted from the New York Stock Exchange. Focus Media has refuted Muddy Waters' allegations and the stock has rebounded so far this year.
But Muddy Waters' most prominent takedown was of Chinese timber company Sino-Forest last year. The firm's accusations of fraud triggered a massive sell-off in shares of the Toronto-listed company before they were eventually suspended. The drop in Sino-Forest's price forced hedge fund high roller John Paulson to book deep losses on the stock.
Though Muddy Waters is continuing to research more Chinese companies, Block also said his firm has been probing companies "outside the China realm" and will likely take a short position on a non-Chinese company sometime this year, potentially in another emerging market.
"I tend to be a little bit skeptical of what I've seen in emerging markets," said Block. "There seems to be a lot of froth there, and where you see that, you typically find wrongdoing and fraud, and that's our expertise."
Some clear warning signs Block watches for?
"Too many mergers and acquisitions at one company are definitely a red flag," said Block. "Companies trying to raise cash when they appear to have a lot on their balance sheet is also an issue."
Block has also found it useful to scrutinize members who sit on the board of directors at Chinese companies, as well as those who are major investors -- a tactic Block used to formulate his short position on Focus Media.
Finally, Block says he also watches to see how companies respond to criticism -- whether it be accusations of fraud or otherwise.
"If a company responds to a short seller's claims by brushing them off and saying that it will continue to run its business and in turn, void any investor concerns, it generally turns out that the short seller is wrong," said Block. "But when a company starts buying back shares, that's not necessarily a positive."
Block is wary of share repurchase programs because they only act as a "Band-Aid" in terms of boosting a company's stock. They also force the company to "squander" a portion of its cash, he said.
Though Muddy Waters is known mainly for highlighting stocks it doesn't like, Block says the firm has been looking to make a bet on stocks it wants to buy for the long-term. It just hasn't found one yet.
"There were a couple of candidates that came across our radar screen for long positions, but when we scratched the surface, there were some concerning issues," said Block. "We're still looking for the right company, so we'll see."
While it's not a fool-proof safeguard, Block said one of the top priorities for a long-term investment would be quarterly dividends.
"It takes more than that. But [a dividend] is the No. 1 criteria," he said.