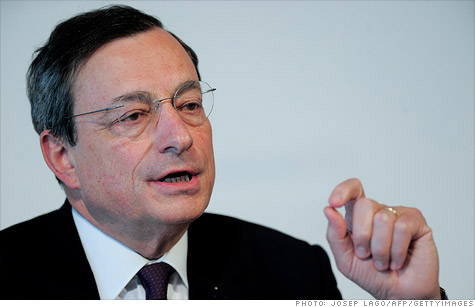 ECB president Mario Draghi is facing more pressure to take action to help the ailing eurozone.
NEW YORK (CNNMoney) -- European Central Bank officials voted Thursday to hold interest rates steady, even as the euro area economy slides towards recession. But ECB president Mario Draghi appeared to hint that there could be rate cuts in the future.
In a widely expected move, the ECB left its main overnight lending rate at 1%, a level the bank has maintained since late last year.
The Governing Council of the Frankfurt-based ECB met in Barcelona as the economic outlook in the eurozone has deteriorated.
Speaking to reporters after the meeting, Draghi said the ECB's policies remain "accommodative" in light of the economic data from the first quarter. But he acknowledged that more recent economic indicators highlight the uncertain outlook for the eurozone.
Draghi noted that economic activity was "stabilizing" in the first quarter but that more recent data shows "uncertainty prevailing."
While he stressed that interest rates are very low and liquidity is abundant, Draghi said several times that "any exit strategy remains premature." ECB policymakers will be "clearer in our assessment" at the council's next policy meeting in June, he added.
"The ECB does appear to be leaving the door open to an eventual further interest rate cut," said Howard Archer, chief UK and European economist at IHS Global Insight.
But monetary policymakers will probably not act until economic conditions have deteriorated further, according to Archer. "Unfortunately that could very well happen," he added.
Meanwhile, the ECB is under pressure to intervene in financial markets as investors have been rattled by renewed concerns about the euro debt crisis.
In response to a question on the ECB's controversial bond buying program, Draghi simply said the so-called securities market program, under which the ECB purchased billions of euros worth of government debt last year, is "an important instrument."
But he stressed that eurozone governments still need to reduce debt and take steps to increase economic competitiveness.
"These mechanisms are useful, but they cannot replace either fiscal consolidation or structural reforms as the way to go back to stability," said Draghi.
The ECB has taken unprecedented steps to support the economy.
In two separate operations, the ECB funneled more than 1 trillion euros worth of ultra low-cost loans into the banking system starting late last year. The two long-term refinancing operations, or LTROs, helped prevent a credit crunch in the banking system.
The LTROs also appeared to drive down borrowing costs for troubled euro area governments including Italy and Spain. But the effects of the lending program have waned and some investors are now calling for the ECB to do more.
Spain, for example, confirmed earlier this week that it officially slipped back into recession in the first quarter. Meanwhile, unemployment in the 17-nations that use the euro edged up to 10.9% in March -- the highest level since the common currency was introduced in 1999.
In addition to Spain, several other eurozone economies already struggling with recession including Italy, Ireland, Greece and Portugal.
Overall, the eurozone economy is widely expected to suffer a mild recession this year as austerity -- budget cuts and tax hikes -- take a toll on growth.
The bleak economic climate has raised concerns that austerity is doing more harm than good, and a growing number of policymakers have been calling for reforms to boost economic growth.
For his part, Draghi seemed to suggest that policymakers need to do both.
"We have to put growth back at center of agenda without any contradiction to the need to preserver in fiscal consolidation," said Draghi.
He supported calls for a "growth pact" to compliment the "fiscal pact" that euro area leaders signed late last year.
Draghi said the growth pact should emphasize polices aimed at opening up eurozone labor and product markets to increased competition. At the same time, Draghi said targeted spending on infrastructure projects will help create jobs in the public sector.
"We need a common European discipline in doing these reforms," he said.