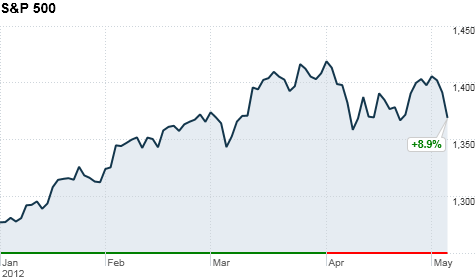 NEW YORK (CNNMoney) -- When U.S. investors start trading Monday, they'll have two big bits of global news to chew over: Election outcomes in France and Greece.
In France, socialist Francois Hollande defeated president Nicolas Sarkozy, raising questions about the future of austerity throughout Europe.
"A change in leadership brings uncertainty because you don't know exactly what you're getting into," said Ryan Detrick, senior technical strategist at Schaeffer's Investment Research.
"It won't be a be-all end-all sell signal, but new leadership in France could cause investor jitters that reverberate throughout global financial markets," said Detrick.
Hollande campaigned on the need to focus more on economic growth to reduce public debt, as opposed to austerity, which has been the main policy prescription for the three year-old European debt crisis.
While it remains to be seen to what extent Hollande will push his growth agenda, his countering approach causes concerns about how he might work with German Chancellor Angela Merkel, the key proponent of austerity.
Even so, many economists and market strategists say Hollande is likely to pursue policies that maintain fiscal discipline and will also make efforts to keep good relations with Germany.
While there could be some "initial friction with Merkel," Hollande will eventually form his own bond with the German leader, said Antonio Barroso, an analyst at political research firm Eurasia Group.
"Hollande is very pragmatic." said Barroso. "He knows that Germany is his most important partner. They will have to agree on a solution for the crisis."
What's more, there is not that much difference between many of the candidates' policies. Hollande and Sarkozy had both pledged to balance the nation's budget, although they differed on taxes, with Hollande pleding tax hikes on the rich.
"At the end of day, there's not a huge departure from the status quo," said Barroso.
Meanwhile, in Greece, voters appeared to be delivering steep losses to the government's governing coalition, raising questions about how the troubled country's austerity program will be implemented.
After nearing four-year highs at the start of the week, U.S. stocks ended with a thud on Friday, as the S&P 500 logged its biggest weekly decline of the year.
Later in the week, the weekly unemployment claims report will be likely be the most heavily scrutinized, said Detrick.
Weekly initial jobless claims dropped sharply last week -- a good sign -- but investors were disappointed by the the April jobs report on Friday that showed a sharp slowdown in hiring.
"Lately, it's been one step forward, two steps back, so investors are just looking for good news on the jobs front," said Detrick.
The University of Michigan's preliminary reading on consumer sentiment in May could also attract some attention.
Though a bulk of U.S. companies have reported quarterly earnings, a few major companies are on deck to open their books, including media giants News Corp. (NWSA, Fortune 500) and Walt Disney (DIS, Fortune 500), as well as retailers like Macy's (M, Fortune 500), Nordstrom (JWN, Fortune 500) and Kohl's (KSS, Fortune 500).
Dow component Cisco (CSCO, Fortune 500) is also on tap.
Historically, May is the start of a weak period for the U.S. stock market, and the 'sell in May, and go away' phenomenon has reared its head for the past two years.
But Detrick doesn't expect the same type of weakness this year.
"I don't anticipate seeing the sizeable pullbacks that we saw during the last couple of years, but this is a time frame where the stock market rarely has explosive moves higher," he said.
Rather, Detrick expects the stock market to get through the economic and corporate news lull by largely moving sideways. Already, he notes, stocks are back at the levels they were about eight weeks ago.
And given that the market soared during the first three months of the year, "that's not necessarily a bad thing," he said.