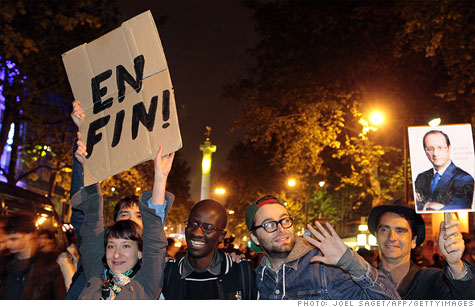 Supporters of Socialist Francois Hollande celebrate his victory as president-elect of France. Hollande wants to renegotiate the fiscal compact President Nicolas Sarkozy supported and add measures to spur economic growth.
NEW YORK (CNNMoney) -- The French and Greek election results are being viewed as a smackdown on austerity.
In France, Socialist Francois Hollande won the presidential election, defeating incumbent Nicolas Sarkozy, who supported the compact to increase fiscal discipline in the Eurozone.
And the makeup of the next Greek government remains unclear after the pro-austerity parties didn't win enough parliamentary seats to form a majority.
There are at least two key lessons for fiscal policymakers in the United States, where debt is on track to reach unsustainable levels in the next decade or two. (Full coverage: Europe's debt crisis)
The perils of a fiscal 180: Waiting too long to deal with fiscal imbalances, and then trying to impose austerity measures virtually overnight, invites all sorts of trouble economically and politically.
"Anytime you try to slam the brakes, it's going to be difficult. So why do it if you don't have to?" said Simon Johnson, former chief economist for the International Monetary Fund and now a professor at the MIT Sloane School of Management.
For now, the United States, unlike many eurozone countries, is not being pushed by markets to slam the brakes.
That's because the U.S. fiscal situation differs in three key ways from debt-laden Eurozone countries. The United States controls its own currency and so can use the dollar to help manage the economy. That economy is large and diverse. And the country is still able to borrow money at very low interest rates because it's perceived as a safe haven.
But, Johnson added, "we shouldn't be complacent. Our fiscal adjustment can be more gradual, but you have to start now."
How gradual? "Over 20 years would be fine. We don't have to do what Europeans are trying to do over a few years," he said.
And having a plan that unfolds gradually can mean that near-term economic growth needn't be hobbled, and individuals would have time to plan for future changes.
It's easier said than done, of course. Having a plan requires agreement on what should be in the plan. So far, Democrats and Republicans haven't specialized in reaching agreements.
They'll have an opportunity to improve on that record by year's end. If lawmakers fail to compromise, they will activate an inadvertent and poorly designed austerity package as trillions in spending cuts and tax increases will be triggered by expiring policies.
The perils of public expectation: A second lesson the United States can draw from the French elections in particular relates to the disconnect between what the public wants and what it's willing to do to get it.
Harvard economist Ken Rogoff doesn't see the election of Hollande as a rejection of austerity so much as a rejection of Germany's influence in the eurozone and its leading role in the drive toward austerity in the region.
The French "don't want to give up any of their sovereignty," Rogoff said. "In the United States, Americans want government services, but they don't want to pay for them."
Until politicians are willing to tell voters the truth, and until voters are willing to listen to realistic plans to restore fiscal sustainability, making progress on the budget front will be difficult indeed.