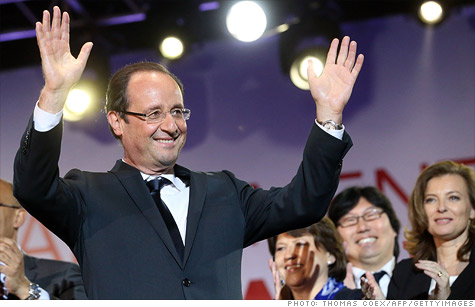 After winning Sunday's election, Francois Hollande is expected to be sworn in as French president later this month.
NEW YORK (CNNMoney) -- European Union officials are expected to begin debating ways to boost economic growth, after voters in France and Greece rejected austerity.
The focus on growth comes after Socialist party leader Francois Hollande defeated incumbent Nicolas Sarkozy in France's presidential election Sunday. In Greece, voters punished the two main political parties, raising concerns that a weak coalition government will backtrack on the nation's bailout program.
At the same time, many European economies have tumbled into recession as austerity measures -- budget cuts and tax hikes -- take a toll on growth.
Hollande has said he would renegotiate the "fiscal compact" that most EU leaders signed late last year to incorporate a "growth dimension." The pact is designed to increase fiscal discipline and prevent a future crisis by ensuring that governments respect deficit rules and do not overspend.
But analysts say Hollande will probably back down on this issue to avoid a conflict with German Chancellor Angela Merkel, who has been the most vocal supporter of austerity.
Given the shifting political winds, the most likely outcome will be a new "growth compact" to complement the fiscal treaty, according to James Goundry, an analyst at IHS Global Insight.
"This should be viewed as the opening salvo in negotiations over additional growth measures to be held with European leaders -- most notably German chancellor Angela Merkel -- over the coming weeks and months," he said.
Many EU officials have already called for measures to boost growth and create jobs.
Over the weekend, Olli Rhen, vice president of the European Commission, outlined his strategy for restoring economic growth in the eurozone.
The first step is to ensure that governments can consolidate debt "in a growth-friendly and differentiated way," Rhen said Saturday. He pointed to the existing EU framework and said governments need to have the flexibility to enact policies that are most relevant for their particular circumstances.
"The Stability and Growth Pact is not stupid," he said.
Rhen also said policymakers need to address the "deeper origins" of the crisis and make targeted investments to increase economic competitiveness.
"While fiscal consolidation is unavoidable...active public policies to promote sustainable growth are equally important," said Rhen.
European Central Bank president Mario Draghi called for similar measures last week.
Meanwhile, European Council president Herman Van Rompuy has hinted that he may call an emergency EU summit later this month to discuss the growth compact, according to economists at Societe Generale.
The plan will reportedly be worth €200 billion, using a combination of public and private funds.
"Deployed quickly and focusing on the weaker periphery, this could ease the austerity trap now engulfing several economies," Societe Generale economists wrote in a note to clients.
The growth compact will also be discussed by euro area finance ministers next weekend at a planned meeting of the Eurogroup.
While the increasing emphasis on economic growth is a positive development, it remains to be seen how financially challenged European governments will fund their stimulus programs, said Gary Jenkins, an analyst at Swordfish Research.
"In order for the EU to promote growth they need to be able to convince the market that they will be repaid in full and on time," said Jenkins.
To do this, Jenkins said the ECB may need to step up its interventions in the bond market "with a touch more enthusiasm." In addition, the European Stability Mechanism, the €500 billion rescue fund set to come into force later this year, may also be used to restore confidence in the market, he added.
"So the key question is if there really is more of a growth push will the markets fund it," asked Jenkins. "All eyes will be on Italian, Spanish and French bonds over the next few weeks."