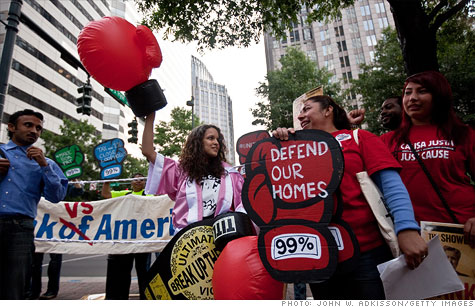 Hundreds of protesters gathered outside Bank of America's headquarters in Charlotte for the shareholders' meeting.
NEW YORK (CNNMoney) -- Hundreds of protesters decamped outside Bank of America's corporate headquarters in downtown Charlotte, N.C., on Wednesday for the bank's annual shareholder meeting.
Despite the hubbub both inside and outside the meeting, only a minority of shareholders voted against chief executive Brian Moynihan's pay package, and all other shareholder proposals were defeated, according to a Bank of America statement.
A spokesperson for the Charlotte police force said the events were largely peaceful and did not cause major disruptions during the morning's commute, although five people were arrested. The crowds were smaller than the 1,000 expected.
Most of the protesters were part of the 99% Power Coalition, an amalgamation of organizations that are pushing back against Bank of America's (BAC, Fortune 500) foreclosure practices and its role in financing coal mining in the United States.
Bank of America appeared to allow all shareholders in the door, despite concerns that it might prevent potential protesters from entering the meeting. Lenina Nadal, one of the organizers of the event, said she was not aware of any shareholders being turned away.
Wells Fargo was said to have kept more than 100 shareholders from entering its annual meeting several weeks ago.
Shareholders, many of whom were activists, questioned Moynihan for roughly 45 minutes, said George Goehl, the executive director of National People's Action, who was inside the meeting.
Questions focused on the bank's foreclosure practices and its affiliations with both payday lending and mountain-top coal removal. Roughly a dozen shareholders were escorted out, said Goehl. While it was largely orderly, at times shareholders erupted in anti-Moynihan and anti-Bank of America chants, added Goehl.
"Dozens of us were able to speak, but Moynihan mostly dodged, deflected, and denied, said Goehl. "He looked visibly uncomfortable the entire time."
The 99% Power Coalition has held similar protests outside the shareholder meetings of Wells Fargo (WFC, Fortune 500) and General Electric (GE, Fortune 500) that have drawn hundreds of people.
"We see Bank of America as the worst of the worst," said Amanda Starbuck, a director at the environmental advocacy group Rainforest Action Network, which organized the protests. "There's a lot of momentum around Bank of America."
Margarita Ramira was one of many who traveled to Charlotte for the protest. She said Bank of America was trying to modify the mortgage on her Oakland, Calif.-house for over a year, but then sold it without giving her any notice. Now, Ramira is renting her own home. Her sentiment was a common refrain, as many protesters had personal experiences with Bank of America that pushed them to action.
The city of Charlotte beefed up police presence in a two-block radius surrounding the bank's headquarters, where the meeting was held. Earlier in the year, the city deemed it an "extraordinary event," which allowed the Charlotte police force to reallocate officers as it sees fit, according to a spokesperson for the mayor's office.
Additionally, members of the 99% Power Coalition said that Bank of America paid for additional security around the meeting. The bank hired off-duty Charlotte police officers to sit inside the meeting, as well as a private security firm to work outside.
Bank of America declined to comment on the hiring of private security. A spokesperson for Charlotte's mayor said that off-duty police officers can be hired by private companies.
"We're taking a chance to almost bypass the political protests and go directly to the corporations," said Starbuck.
Battles both outside and inside shareholder meetings have been heating up this year. At the annual meeting for Citigroup (C, Fortune 500), shareholders voted against CEO Vikram Pandit's $15 million pay package. That shareholder vote is not binding, and Citi has yet to decide if it will uphold Pandit's compensation.
CNN's Gustavo Valdes contributed to this article.