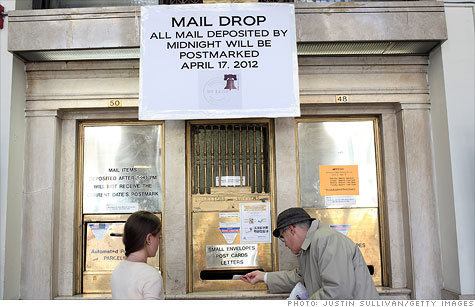 The U.S. Postal Service posted a $3.2 billion loss in its fiscal second quarter.
WASHINGTON (CNNMoney) -- The U.S. Postal Service's financial struggles continued at the start of 2012, as the agency reported a $3.2 billion loss for the three months ended March 31.
The recession, declining volume in the type of mail that most Americans use and a congressional mandate to prefund retirement health care benefits continue to cause losses, the Postal Service reported.
The losses in the service's second fiscal quarter came on the heels of a $3.3 billion loss in its first quarter, which has historically been the service's most profitable, and were wider than the $2.2 billion shortfall a year earlier.
The Postal Service used the loss announcement as an opportunity to push its plan to stem the bleeding, which includes cutting Saturday service, consolidating postal processing plants and addressing the mandate to prefund health care retirement benefits.
"We are aggressively pursuing new revenue streams and reducing costs in areas within our control," said Postmaster General and CEO Patrick Donahoe in a statement. "These actions are not enough to return the Postal Service to profitability."
The volume of first-class mail, the mail most consumers use, dropped 5% over the past six months, said Joseph Corbett, chief financial officer for the Postal Service.
A big part of the financial losses are two mandatory payments totaling more than $11 billion to prefund retirement payments, the first due Aug. 1.
"There is no way we'll have significant cash to make this payment," Corbett said.
But even beyond the retirement payments, if Congress doesn't step in, the Postal Service will run out of cash in October, he added.
The Postal Service is, by law, an "independent establishment" of the executive branch. The agency doesn't normally use tax dollars for operations, but it has a $12.1 billion loan from Treasury, as of Jan. 31.
Sen. Thomas Carper, a Delaware Democrat who helped draft the Senate-passed plan to save the service, said the numbers signal a pressing need for the House to "do its part" and pass its own version of postal reform legislation to give the Postal Service a chance to support itself again.
"Every day that the House delays, the Postal Service loses $25 million," Carper said in a statement. "We can't afford to wait any longer."
Rep. Darrell Issa said the postal service's finances show the need for the "long-term solvency" provided by the House bill to save the service.
"While the measure approved by the Senate failed to achieve these benchmarks, the House of Representatives will advance a comprehensive postal reform bill that protects the long-term interests of postal customers," the California Republican said in a statement.