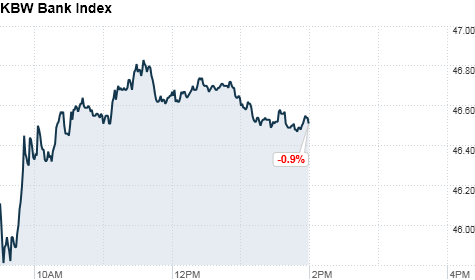 Click on chart to track markets
NEW YORK (CNNMoney) -- JPMorgan Chase's multi-billion dollar trading blunder dragged down bank stocks Friday, undermining investor confidence in other Wall Street finance firms.
JPMorgan (JPM, Fortune 500) led the bank stock declines, with its stock dropping nearly 9%.
The bank revealed Thursday, after the close of markets, that it suffered trading losses of $2 billion since the start of April.
The problems affected other major bank stocks. Morgan Stanley (MS, Fortune 500), Citigroup (C, Fortune 500) and Goldman Sachs (GS, Fortune 500) fell about 4%. Bank of America (BAC, Fortune 500) declined less than 2% and Wells Fargo (WFC, Fortune 500) managed to eke out modest gains, recovering from earlier losses.
"The problem is that there's going to be a massive backlash," said Christopher Wheeler, bank analyst for Mediobanca in London.
Wheeler mentioned that the debacle was unfolding amid an ongoing debate over the Volcker Rule, which limits banks on investing with their money.
"The regulators are going to have a field day," he said.
Bank stocks were already under siege. The KBW (BKX) index of bank stocks has fallen 1.7% over the last five trading sessions, without even showing the impact of JPMorgan's bad trade. On Friday, the index was down about 1%.
The trade prompted an unusual impromptu teleconference with Chief Executive Jamie Dimon and analysts, at which he divulged that net losses could exceed $800 million by the end of the second quarter for the company's corporate unit. Before that announcement, a net gain of $200 million was forecast for the unit.
Dimon told analysts that the losing trades were the result of "sloppiness" and "bad judgment," but he shrugged off a question about whether other banks were affected.
"Just because we're stupid doesn't mean everyone else was," said Dimon on the call.