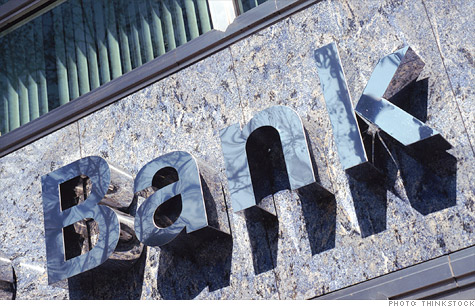 Investing in regional banks that didn't take Troubled Asset Relief Program (TARP) funds are a good place to start.
(MONEY Magazine) -- This piece appears in the June issue of Money Magazine and was written before JPMorgan Chase revealed a surprise $2 billion trading loss. Data in the story has been updated to reflect stock prices as of May 11.
Bank shares have been among the best performers this year, and it's easy to see why. The economy is slowly but surely improving. Most big banks passed the Federal Reserve's latest stress tests, indicating they can withstand another stock and housing market shock (though it remains to be seen how they'd fare in a different type of crisis). And top lenders finally settled with regulators over the robo-signing foreclosure scandal, removing a big legal risk.
Yet you may be wary of going near these stocks. Does Bank of America (BAC, Fortune 500), with its puny 4¢ dividend, really deserve to be up nearly 40% this year? Why should Citigroup (C, Fortune 500), one of only four banks to fail the stress test, be up 12%? There's also the fact that the balance sheets of many large banks remain as opaque as the big black monolith in "2001: A Space Odyssey."
Fortunately, you can act on this financial rebound without losing sleep ... or feelings of righteous indignation. Regional banks that didn't take Troubled Asset Relief Program (TARP) funds are a good place to start. Several midsize lenders turned down the government's bailout because they didn't need the funds. They may not be household names, but many offer higher-quality loan portfolios and bigger yields than the big banks.
Take Commerce Bancshares (CBSH). This Kansas City -- based lender has grown the old-fashioned -- and cheap -- way: through checking, money-market, and savings deposits that pay little or no interest. Yet those deposits can support the bank's entire loan book, according to Morningstar.
Sterne Agee analyst Peyton Green also likes another Kansas City bank: UMB Financial (UMBF), which is expanding its asset management business. Both Commerce and UMB have been built on "standards to withstand depressions," Green says.
Christopher Whalen, a critic of big banks and co-founder of Institutional Risk Analytics, which grades lenders' health, likes Cullen/Frost Bankers (CFR). At the end of last year, bad loans at this San Antonio bank, with an A+ rating, were a smaller percentage of total loans than at many giant banks.
You can own all three stocks via SPDR S&P Regional Banking ETF (KRE), which also holds other TARP-free banks such as Bank of Hawaii (BOH) Mississippi's BancorpSouth (BXS), and Oklahoma's BOK Financial (BOKF).
When it comes to bank stocks, a key measure is book value, the theoretical price the company is worth if you subtract its liabilities from its assets. All six of the regional banks mentioned here trade at price/book ratios below their five-year averages, a sign they could be a good value now, especially since they avoided the worst sins of many of their larger peers.
Midsize Advantage
These regional lenders are stronger than giant banks like Citigroup and Bank of America.
Commerce Bancshares: Dividend yield 2.3%; Non-performing loans 0.7%
UMB Financial: Dividend yield 1.8%; Non-performing loans 0.5%
Cullen/Frost: Dividend yield 3.3%; Non-performing loans 1.2%
Citigroup: Dividend yield 0.1%; Non-performing loans 1.8%
Bank of America: 0.5%; Non-performing loans 2.9%
NOTE: Nonperforming loans are a percentage of total loans. Bank of America figures include leases. SOURCES: Morningstar and company filings
Do you know a Money Hero? MONEY magazine is celebrating people, both famous and unsung, who have done extraordinary work to improve others' financial well-being. Nominate your Money Hero.