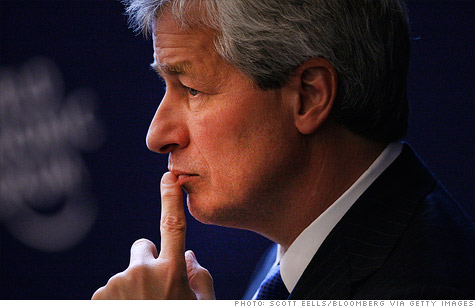 Jamie Dimon will face shareholders on Tuesday.
NEW YORK (CNNMoney) -- The Jamie Dimon apology tour is likely to continue on Tuesday as the CEO of the nation's largest bank and his $23 million pay package go before shareholders at JPMorgan's annual meeting.
The meeting comes just days after the bank disclosed a $2 billion trading loss, an event that led to the departure of its chief investment officer and forced its CEO to apologize for what he called "a terrible mistake."
Dimon, who also serves as the bank's chairman, will be facing shareholders who have seen the company's stock decline by more than 14% over the previous five trading sessions.
And those shareholders will be voting on a series of proposals on topics including political contributions, controversial investments in Sudan, and executive compensation, including Dimon's $23 million compensation for 2011.
"This was already going to be a fairly noisy meeting, and now it's going to be cacophonous" said Paul Hodgson, a senior research associate at GMI ratings, a governance research firm.
In the wake of the 2008 financial crisis, shareholders have looked upon the nation's largest banks with increased scrutiny, and have often used shareholder meetings to push an agenda of reform.
Earlier this year, Citigroup (C, Fortune 500) shareholders rejected a pay increase for CEO Vikram Pandit that would have taken his salary from $1 to $15 million.
The vote, mandated by the "say on pay" regulations in the Dodd-Frank financial reform bill, is non-binding, but marked the first time shareholders have rejected executive pay packages at a major bank.
JPMorgan (JPM, Fortune 500) will hold a similar vote on Tuesday in Tampa Fla., and Hodgson said that the announced loss by the bank's chief investment office could have an impact on the outcome.
Shareholders will also consider a proposal that calls for the appointment of an independent chairman, which would strip Dimon of some of his power.
The bank's board of directors is firmly opposed to this idea, saying in a recent proxy statement that such a move could cause "uncertainty, confusion and inefficiency in board and management function and relations."
Others are not so sure. Glass Lewis & Co., a governance analysis and proxy voting firm, has recommended the positions be separated as corporate governance is weakened by allowing one individual to perform both jobs.
Hodgson said shareholders are likely to be paying close attention, especially in the wake of the $2 billion loss.
Yet even with support from Glass Lewis & Co., it's not clear that the proposal will be approved by shareholders.
F. Daniel Siciliano, a professor at Stanford's Rock Center for Corporate Governance, said that "fireworks are likely to be modest."
That's because Tampa is an out-of-the-way location, and many shareholder votes have already been cast.
"In theory, people can change their votes on their proxy," Siciliano said. "But by and large, mechanically, that tends to not happen."
Still, the timing of the shareholder meeting is not great for the bank, which continues to reel from the massive loss, the result of a derivatives bet gone bad.
Early on Monday, the bank announced the retirement of Ina Drew, the firm's chief investment officer and the supervisor of the bank's chief investment office.
That office, which makes trades designed to hedge against risk, had amassed a large position in credit-default swaps that began to sour in recent weeks.
Net losses, after factoring in other securities gains, are expected to exceed $800 million by the end of the second quarter. And losses could increase depending on market conditions and the bank's actions moving forward.
The unit had been expected to post a net gain of $200 million.
Dimon, in full damage control mode, was forced to hold a hastily-arranged conference call to announce the loss, and followed that with an appearance on Meet the Press, where he admitted the company had made a mistake.
"This is a terrible mistake," Dimon said. "In this job, you hope they're small and few and far between. This one is far too big."
Hodgson said the bank would clearly like to avoid the topic as much as possible on Tuesday, but that shareholders are unlikely to cooperate.
"Management doesn't want to spend the whole meeting talking about this one failure," Hodgson said. "But they aren't going to get away with it. The loss will be the main topic of the meeting."