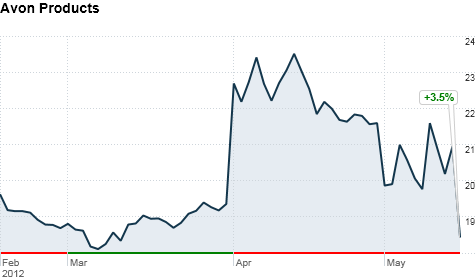 Click chart for more on Avon stock
NEW YORK (CNNMoney) -- Shares of Avon tumbled 10% Tuesday after Coty withdrew its $10.7 billion bid for the direct selling company, putting an end to Coty's dogged pursuit of the troubled direct retailer.
Last week, Coty offered $24.75 a share for Avon, up from its prior offer of $23.25 a share made just last month. Coty had set a May 14 deadline for Avon (AVP, Fortune 500) to agree to consider a deal, but Avon said Sunday that wanted another week.
"While we are disappointed, we wish you success in pursuing your standalone turnaround strategy," said Coty's chairman, Bart Becht, in a letter to Avon's board that was filed with the Securities and Exchange Commission late Monday.
Avon has a long haul ahead of it in its quest for a turnaround. Avon's high expenses have dragged down its balance sheet in recent years.
It is also the subject of two pending Securities and Exchange Commission investigations. The first is one related to Avon employees allegedly bribing foreign officials and the second for allegedly improperly providing information to analysts. Litigation costs have eaten into the company's profits.
With roughly $11 billion in annual revenue, most analysts and investors don't see another buyer emerging.
"The next steps for Avon better or worse are to fix a really messed up business," said Ali Dibadj, an analyst at Sanford Bernstein.
Shares of Avon fell nearly 13% early Tuesday before recouping some of those losses to trade down 10% at $18.64.
An Avon spokesperson declined to comment on the company's next moves.
Since Coty publicly announced its initial bid in early March, Avon had demurred offers and hired former Johnson & Johnson (JNJ, Fortune 500) executive Sherilyn McCoy as its new chief executive, in an effort to help the direct retailer regain its footing.
With its attempts to woo Avon behind them, Coty is now preparing for an initial public offering, a process it started earlier in the year, according to a source close to the company.
In the meantime, expect Coty to continue scooping up consumer brands and retailers, said the same source.
Last week, Coty's majority owner, private holding company Joh. A. Benckiser, announced its intention to sell roughly $2 billion of Reckitt Benckiser stock, giving Coty plenty of capital to pursue acquisitions.
Coty did not return calls for comment.