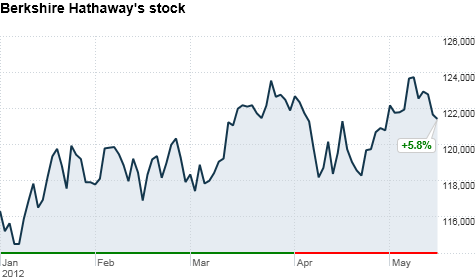 Click chart for more Berkshire Hathaway data
NEW YORK (CNNMoney) -- Warren Buffett's Berkshire Hathaway built new positions in General Motors and Viacom during the first three months of 2012.
Berkshire Hathaway (BRKA, Fortune 500) holds roughly 10 million shares in General Motors (GM, Fortune 500) or roughly $256.5 million worth, according to documents filed with the Securities and Exchange Commission Tuesday.
The investment fund purchased a smaller portion of the media conglomerate Viacom (VIA) or roughly 1.6 million shares valued at $75 million.
The new investment in Viacom, which owns MTV, shows that Buffett is continuing to bet on entertainment.
During the last three months of 2011, Buffett purchased shares of Liberty Media (LMCA) for the first time. The firm nearly doubled its holdings in Liberty Media during the first quarter of 2012. Berkshire is now holding 3 million shares worth $265 million, up from 1.7 million valued at $133 million at the end of 2011.
While Buffett's firm historically eschewed bets on technology, Berkshire Hathaway continues to hold stakes in Intel (INTC, Fortune 500), DirecTV (DTV, Fortune 500), and IBM (IBM, Fortune 500). The fund cut its position in Intel, while increasing its stake in DirecTV and IBM.
Berkshire Hathaway cut its stake in Intel by nearly a third during the first three months of the year. It now owns 7.8 million shares of Intel, down from roughly 11.5 million at the end of 2011.
The firm marginally increased its holdings of IBM and maintained its position as one of the largest holders of Big Blue's stock. Berkshire owns 64.4 million shares, up from 63.9 million at the end of December.
Still even with a newfound interest in the tech sector, don't expect Warren Buffett to build up stakes in Apple (AAPL, Fortune 500), Google (GOOG, Fortune 500) or even Facebook. He told investors at his annual meeting that he's ruling these companies out.